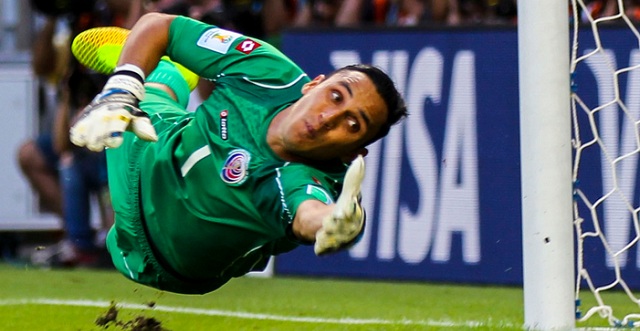 Real Madrid goalkeeper Keylor Navas cried when his proposed move to Manchester United fell through. His response culminating in a mixture of emotions and relief as he didn't want to leave Madrid.
The 28-year-old Costa Rican was included in the proposed swap deal that would have seen David De Gea join Real Madrid on deadline day.
Navas told Cadena COPE: "My agent told me to be alert to my phone. We had to go to Barajas, although I never actually got on a plane, I was in a waiting room.
"I thought that if God wanted me to leave Madrid, it would be for the best, but he didn't want me to and I'm still here."
The departure of legendary goalkeeper Iker Casillas to Porto has seen Navas' Madrid career burst into life this season. He has played in all five games this season and has not conceded a single goal. The failure to bring De Gea to the Bernabeu has seen Navas establish himself as the Madrid No.1 ahead of summer-signing Kiko Casilla.
Navas admitted: "I cried when I found out I was staying, it was a build-up of emotions," Navas told Spanish radio.
"I didn't want to leave, Madrid is my home."
However, Navas has now put the De Gea saga behind him and reaffirmed his passion and dedication to bringing success to Real Madrid. He said: "I signed the Manchester United contract on a stretcher while I had my medical, but I want to write my own story at this club and win everything this season."
"We have things to improve, but we're on the right path."
According to Squawka statistics, Navas has made seven saves to help preserve his phenomenal clean sheet record. He has also won Squawka's accolade of goalkeeper of the week twice in just four La Liga games. Clearly, Navas is thriving after his deal to United failed, but so is De Gea at United. The saga's failure may have been the best deal for everyone involved at a professional level.