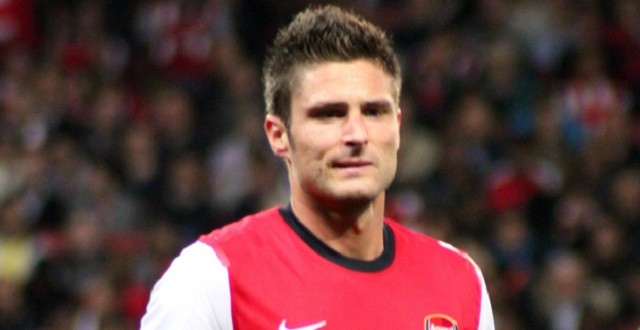 Arsenal will look to snap their two game losing streak when they play Tottenham on Wednesday in the Capital One Cup.
The last time Arsenal played Tottenham in the Capital One Cup at White Hart Lane was in September 2010, also in the third round of the competition. Arsenal came out 4-1 victors after overtime. Henri Lansbury opened his Arsenal account on the day before Robbie Keane tied the game in the second half. Arsenal, however, took the initiative in the second half of extra with Samir Nasri scoring two penalties and Andrei Arshavin adding a fourth before the end of the first period of extra time.
Arsenal will hope for a repeat performance on Wednesday night and Arsene Wenger could feature a strong lineup in an effort create momentum, despite the competitions lack of importance.
Mikel Arteta, Mathieu Debuchy, Kieran Gibbs, and Alex Oxlade-Chamberlain will get another chance after all four players played poorly a week ago against Dinamo Zagreb. We should also see Per Mertesacker return to the lineup since recovering from a virus.
Exciting youngster, Alex Iwobi will feature on the bench as will Joel Campbell, but unfortunately Jeff Reine Adelaide will not make his competitive debut for the club after he picked up an injury against Newcastle's Under-21's over the weekend. The injury will see the promising youngster miss two months, which is a shame for player and fans a like.
Here is Arsenal's most probable starting lineup.
Goalkeeper – Ospina
David Ospina will make his second start of the season. Arsenal lost 2-1 to Dinamo Zagreb last time he played, although none of the goals could be blamed on the keeper.
Ospina is a consistent keeper who you know exactly what to expect of. That is both a compliment, because he plays well consistently, but also a criticism because he won't ever surprise you with a sublime save.
Right Back – Debuchy
Debuchy is fit but he is lacking match sharpness. Debuchy may well find himself playing mostly in games where less importance is placed on the outcome until he regains match fitness.
He needs to take advantage of the opportunities he is given if he is to truly challenge Hector Bellerin for a the starting right back position.
Center Backs – Chambers & Mertesacker
Mertesacker returns to the lineup after recovering from a serious virus. Arsenal will need Mertesacker to pick up where he left off after losing Gabriel for three games due to the Brazilian's red card against Chelsea.
Calum Chambers will start his second match of the season and he too will look to pick up where he left off. He has grown into each match that he's featured in this season and again performed admirably against Chelsea during the second half. Playing alongside Mertesacker will help Chambers because the German will provide the youngster with confidence and guidance about his positioning.
Left Back – Gibbs
Like Debuchy, Gibbs needs to seize every opportunity that he gets. He too is lacking match sharpness and hasn't done much to prove that he deserves more playing time. He was average against Dinamo Zagreb and needs to step up his intensity.
He is a homegrown player and understands the importance of the derby, regardless of the competition. Maybe the occasion will lift his performance to a level we haven't seen for almost a year now.
Defensive Mid – Flamini
Mathieu Flamini will make his first appearance of the season. Flamini has very much been a peripheral player this season. Considering he almost left the club during the summer, it comes as no surprise.
Flamini will provide bite in the midfield that you need in a derby. Otherwise his lack of pace and technique may prove a hindrance to Arsenal. Like Gibbs though, he has a strong understanding of what this derby means and usually plays well in them.
Central Mid – Arteta
The captain will make his second start of the season. A midfield of Mikel Arteta and Flamini will provide good cover for Arsenal's back four, as well as some balance in terms of possession. Otherwise their partnership lacks a bit of pace and adventure.
Attacking Mid – Ramsey
Aaron Ramsey will return to his favored central midfield position. He will play in a more advanced role, one that he excelled in two seasons ago while playing next to Arteta.
Wide Right – Oxlade-Chamberlain
Oxlade-Chamberlain should be determined to put in a good performance. He started the season well putting in excellent performances against Chelsea and Newcastle. He's featured on the bench more often than not and he doesn't seem to be enjoying his time there.
This is a game that Oxlade-Chamberlain needs to grab by the scruff of the neck and take control of.
Wide Left – Walcott
Theo Walcott has looked confident as a striker this season, and although he has missed a few chances, he hasn't let those misses get to his head. He still looks more effective out wide where he is able to make diagonal runs that stretch the back four, which gives him more space to use his pace. If he starts out wide, he will play more like a wide forward than an attacking midfielder.
Striker – Giroud
Olivier Giroud needs to put his woes from the past few weeks behind him and get on with the season. His body language has been poor for weeks now, which makes it hard to get behind him. A derby match is a great place for Giroud to exercise his demons and use his emotions to excel his performance.
Arsenal needs Giroud to play well, not only today but also for the rest of the season. Arsenal play better as a team when Giroud is leading the frontline and linking up play between his teammates.
Frankly his form and attitude is unacceptable right now.
(4-2-3-1)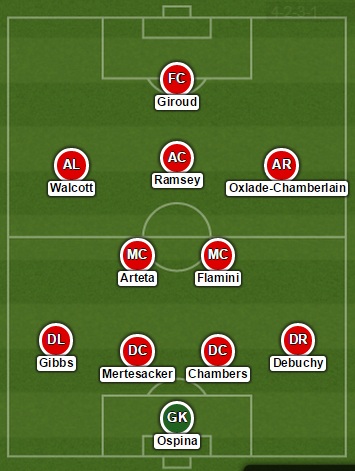 Via – Lineup Builder