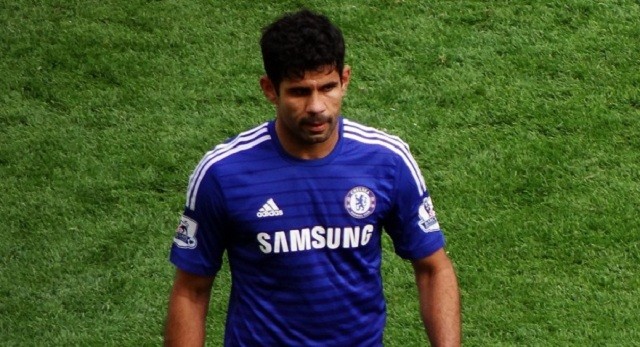 Diego Costa is at the centre of British media attention, following his antics during Chelsea's 2-0 victory over bitter rivals Arsenal.
Arsene Wenger has claimed that the Football Association need to examine how Costa managed to avoid a red-card throughout the entirety of the match.
Costa started his antics by covering Laurent Koscielny's face with both hands in the area, then slapping him in the face with a flailing arm. The Spaniard was then dragged down in the area by Koscielny and responded by forcefully bumping his chest against Koscielny's and knocking him to the floor.
Koscielny's partner in defence Gabriel came over to separate the pair which seemed to further enrage Costa. He turned his attentions to Gabriel and they then had to be separated by the rest of their teammates. Referee Mike Dean gave both of them a yellow-card and told them to get on with the game.
In typical Costa fashion, he slapped Gabriel in the centre of his back right in front of the referee, so the Brazilian responded with a slap of his own to Costa's chest. The pair walked to the half way line still whispering nonsense into each other's ear. Gabriel then flailed a leg at Costa in anger, leaving Costa and teammates Pedro and Cesc Fabregas crowding Dean and asking for Gabriel's sending-off.
The Spanish contingent got their wish and Gabriel was given his marching orders. Within minutes, Costa had transformed from instigator and prime candidate to be sent-off into a sportsman exploiting gamesmanship to get an opponent sent-off. Chelsea took advantage and opened the scoring with a Kurt Zouma header. Eden Hazard doubled the lead to leave Arsenal disconsolate and irritated.
Both managers had opposing views on the situation, as Wenger told the BBC: "He [Costa] will do the same again next week and the week after that and he always gets away with it," said Wenger.
When asked if the FA should take retrospective action, Wenger added: "That is the least they could do.
"Costa can do what he wants and yet he stays on and everyone who responds to him has to be sent off. He hits Koscielny in the face yet he gets away with it.
"I understand referee Mike Dean's decision to send Gabriel off. He was guilty and should not have got involved but why does Costa stay on the pitch after what he has done?"
"Costa is always involved in provocation and he used the naivety of Mike Dean well. It is nothing to do with the strength of a referee. You expect him to make the right decision."
Whereas, Mourinho told the BBC the polar opposite: "I think you should speak about Gabriel Paulista, a good player, and his mistake.
"If you want to speak about Diego Costa, he plays like he has to play and that is why you have full stadiums and you sell the game to television around the world for millions, because the game has to be played like that."
Mourinho then proceeded to compare Costa's behaviour to the Rugby World Cup, as he concluded: "I will go to a game on Sunday that I consider comparable in terms of dedication and passion – New Zealand against Argentina. I go because I love it and Diego was fantastic – man of the match."
Mourinho's petulant battle with Wenger has been further engulfed following Costa's behaviour. However, the vast majority of the country will be in the corner of Wenger, as Costa proved to irritate professionals and supporters alike. Costa will continue to play on the edge, but referees need to review their leniency towards him.
If Costa is known to be erratic and dangerous on the pitch, how can that be a consideration for a referee? For example, Aleksandar Mitrovic was sent-off against Arsenal for a minor stamp with his attention solely focused on the ball. His reputation as a bad boy has seen him booked in nearly every game he has played for Newcastle. Costa has never been sent-off for Chelsea and if the referees continue to perform with the same leniency that Dean had then he never will be.