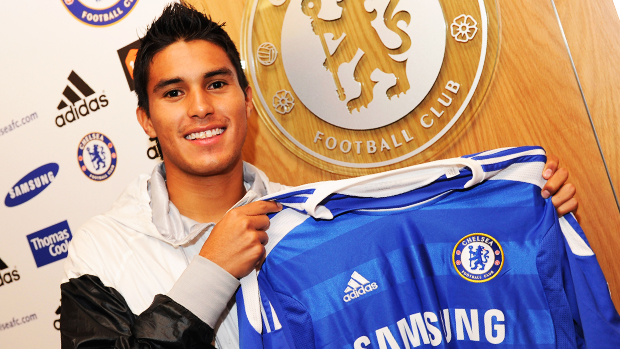 Ulises Alejandro Davila Plascenscia is a Mexican attacking-midfielder, who still has a contract with the reigning Premier League champions Chelsea.
Even the most die-hard of Chelsea fans have forgotten that Davila even signed for the club in the first place. Davila signed a five-year contract for Chelsea in 2011 from Guadalajara, making him the first Mexican player to ever sign for Chelsea.
However, Davila does not hold the crown as the first Mexican to ever play for Chelsea, as the club have persistently been loaning him out for an unbelievable five seasons.
Since 2011, Davila has played for Vitesse Arnhem, Sabadell, Cordoba, Tenerife and now Vitoria Setubal. Clearly, Chelsea are persisting to loan-out Davila until his contract expires at the beginning of next season. His age hardly helps his cause, as he is already 24-years-old and fast approaching the middle stages of his career.
The Mexican has not been helped by his failure to get a work permit to ever play for Chelsea during the last five years either. However, that issue has now been resolved after he recently earned a Spanish passport after spending two years on-loan there.
Davila has been consistently used for the majority of teams that have accepted him on-loan. His biggest success in the past five seasons came when he scored the equalizer away to Las Palmas for Cordoba in the second-leg of the play-off final. Davila's goal earned Cordoba promotion to La Liga for the first time in 42 years, earning him a cult-status at Cordoba who were swiftly relegated the following season.
Unfortunately, Davila is probably the lowest in the pecking order of Jose Mourinho's central attacking-midfield plans. The Chelsea boss has a wealth of options in the form of Oscar, Cesc Fabregas, Willian and Kenedy. Even if all of those players were to get injured, he'd probably recall Lewis Baker, Nathan, Jeremie Boga and Lucas Piazon before even remembering that Davila is still employed by Chelsea.
Nevertheless, he is a great name to mentally store away for a Chelsea-based football quiz in the near future. Davila is the most obscure player currently employed by Chelsea FC, it is just a shame that nobody interested in the Premier League knows who he is or what he even looks like.
Although, Chelsea fans never knew who Nemanja Matic was when they offloaded him for no cash and £21 million just to secure the signing of David Luiz from Benfica. Ironically, four years later Chelsea were paying £21 million to get Matic back after he transformed into a world-class defensive midfielder.
Surprisingly, Mourinho has acknowledged Davila, who told ESPN Mexico: "I was talking to him [Mourinho] on the phone a few times, almost everything is via mail, but I cannot play in England due to Premier League rules. I am aware that I must first join them for pre-season and then I will go on loan to another team."
Whether Davila is suffering from delusions of grandeur, or whether Mourinho has told him that there is a possibility that he will be recalled we will probably never know. But, Davila cannot break into the Mexican national team and he has only scraped 35 minutes of football in the opening five fixtures for Setubal. Hopefully, Davila has more of a successful career when he is released from his Chelsea contract.