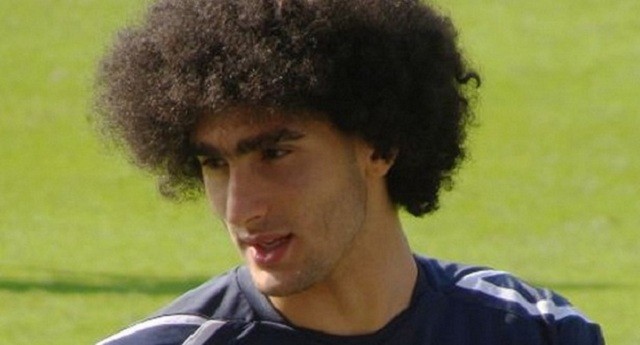 St. Mary's cherished child, who left his home aiming to become an Old Trafford hero suffered a horrific injury on his first ever Champions League night. This Sunday St. Mary's protectors will host Manchester United.
Phil Jones' appearing-to-get-mystical injury is still keeping him away from the tie.
Goalkeeper
Dave Saves. After a fantastic performance against Liverpool, De Gea didn't manage to produce anything extraordinary on Tuesday against PSV. Nevertheless, the No.1 spot seems to be his for the rest of the season without a doubt.
Defense 
It's time to forget about lightning-like left wing for a long time. With Luke Shaw bitterly sidelined allegedly until April, much slower – yet wiser – Daley Blind will try to steal the show. However, the lack of pace on the left flank could be catastrophic, as Southampton's Sadio Mane is about to be back. Thus, Matteo Darmian, who has convinced the fans that each game he takes part in, he leaves his soul at the turf, might start on the left, where he mostly played at Torino FC.
Marcos Rojo had an overall okay performance at Phillips Stadium, but his partnership with Chris Smalling still lacks some good chemistry. The latter makes everyone get used to his Beckenbauer-esque breakthroughs all the way from his team's penalty-box. He will be partnered by Blind, as Van Gaal obviously doesn't want to break their duo.
With Matteo Darmian on the left, Antonia Valencia could get a rare chance to prove his credibility on the right.
Midfield 
Michael Carrick has started 5 games this season – all 5 United have won. This tendency draws from last campaign. He was given a rest this Tuesday against PSV, so he will partner either Schweinsteiger or Schneiderlin in the center. The Frenchman has to prove his indisputable talents, and there is no better place to do it than his ex-home ground. Therefore, Van Gaal might choose him, as Schweinsteiger has deserved a break after playing 4 full matches in a row.
Memphis Depay is a special footballer. And the goal against his former club was a pure class. If United's new No. 7 finds that all-important consistency, The Red Devils will have a true superstar in their squad for years to come.
Juan Mata was the worst player on the field last Tuesday. One doesn't have to look up for post-match performance ratings to declare this. 0 accurate crosses, 0 throughballs, and yet he was finally playing on his beloved No. 10 position. The ex-Valencia man was getting too deep to start the attacks. In fact, so deep, that a United fan next to me shouted "What are you doing here, mate?!" showing his disbelief and frustration with the Spaniard, who attempted to start United's attack almost near their penalty box in the last quarter of the game. He's lost his magic somewhere between London and Manchester 2 years ago, as we all are left wondering: "What's the mata?"
Ashley Young looks as the most credible player to start on the right. He will interchange the positions with Memphis once in a while, as Van Gaal prefers to use wingers as insides.
Attack
Fit again Wayne Rooney is almost certain to start, as Anthony Martial might remain United's secret weapon on the bench. The Frenchman, showing some neat touches in Eindhoven this week, still needs to improve the understanding with his new teammates.
The secondary striker's position will be competed between Fellaini and Herrera. The former is definitely fitter and has deserved a chance to play on No.10 spot – with a rather free role, than he played against Liverpool. If this experiment fails, Van Gaal may try to drop Rooney back and replace Fellaini with Martial, sending the 19-year-old to the hottest realms of the Saints' penalty box.
(4-2-2-2)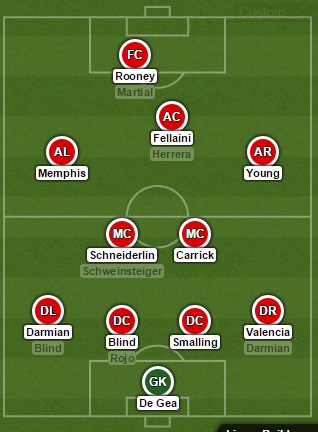 Via – Lineup Builder