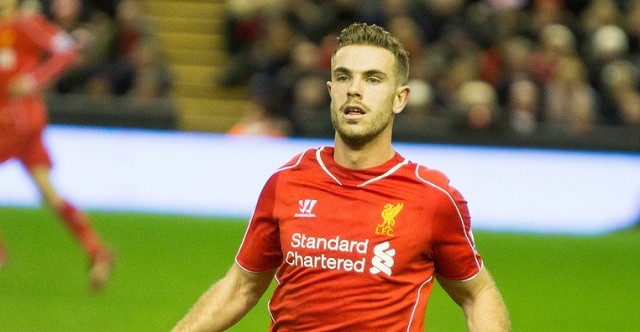 Liverpool has once again started their season with disappointing results and let their fans down, especially after their loss against Manchester United in the Northwest Derby. So they will be looking for a good win against Norwich to cheer up Liverpool's faithful fans who have had enough.
Goalkeeper – Simon Mignolet
Simon Mignolet is known for being inconsistent, and even though he could shine in some games, he could make big mistakes in others. However, he isn't the biggest problem in Liverpool's backline, as the defenders are very shaky and put Mignolet in extremely difficult situations.
He is also a very obvious choice for the goalkeeping position, as Brendan Rodgers has full belief in him, and hasn't got any other Premier League proven goalkeeper on their side.
 Right Back – Nathaniel Clyne
One of Liverpool's greatest purchases in this summer's transfer window, Nathaniel Clyne is a vital part of Liverpool's defense. He has the perfect balance of defensive and offensive game, which is something Liverpool had needed for many years. So it's pretty safe to say that Nathaniel Clyne will most likely start for Liverpool against Norwich City.
Centre Back – Martin Škrtel
An obvious choice for Liverpool's Centre Back position, as he arguably their best Central Defender. However, he suffers from the same inconsistency that Mignolet and nearly the entire Liverpool backline go through. But, he is still expected to start against Norwich this Sunday, and defend against the likes of Jerome and Hoolahan.
Centre Back – Mamadou Sakho
After another poor performance from the incredibly inconsistent Dejan Lovren, it would be the best time for Brendan Rodgers to replace him with Mamadou Sakho, to at least to remind him that he doesn't own his position, and could be easily replaced. Mamadou Sakho is also way less inconsistent and decent in the backline, so it would make the most sense for him to start instead of Lovren.
Left Back – Joe Gomez
Even though he didn't have a great performance against Manchester United, he is still the best choice for the left back position. He does have some problems though, as he is extremely defensive in the fullback position, and hasn't found the balance between his defensive and offensive mindset. But he should be definitely used in smaller games like the one against Norwich, so that he could learn more and more from each game, as he is very young and talented.
Central Midfielder – Emre Can
He is very young and could play well when he is on form, so it would make the most sense for him to start in the midfield position and play a more defensive role in the heart of the midfield.
Central Midfielder – Jordan Henderson
Captain Jordan Henderson's injury has affected Liverpool in many negative ways, with them only getting 1 out of 9 possible points when he was gone. But now with Liverpool's medical staff suggesting that he might be fit and ready for their game against Norwich, Liverpool fans must be feeling excited, as their leader in the midfield could be back. And if he makes a return, he could finally bring back the balance to Liverpool's midfield.
Attacking Midfielder – Filipe Coutinho
Arguably, Liverpool's best player, Filipe Coutinho will surely start against Norwich. He is a fan favorite and a game changer for Liverpool. So naturally, fans will have high expectations from him.
Attacking Midfielder – Roberto Firmino
He was used as a Right Forward in Liverpool's previous game against Manchester United, which is not his actual position. Brendan Rodgers should know that using Roberto as a Right Forward is a complete waste, as he is not a speedy winger. He should be playing in his natural position, as a central attacking midfielder, so that he could show his real quality.
Striker – Christian Benteke
Liverpool's biggest threat up front, will obviously start against Norwich City. He is a very physical striker, but could be very creative when he is on the ball, and this could really help Liverpool who had became rather predictable in their previous season.
Striker – Danny Ings
Young and speedy, Ings is a very talented player, who was troubling Manchester United's backline throughout the game. He is not very experienced, but could play up front next to the more experienced Christian Benteke, and give him the support that he needs in the front line.
(4-2-2-2)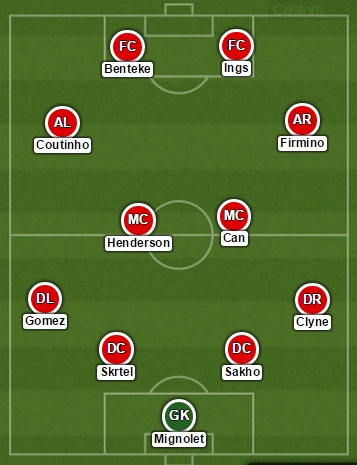 Via – Lineup Builder