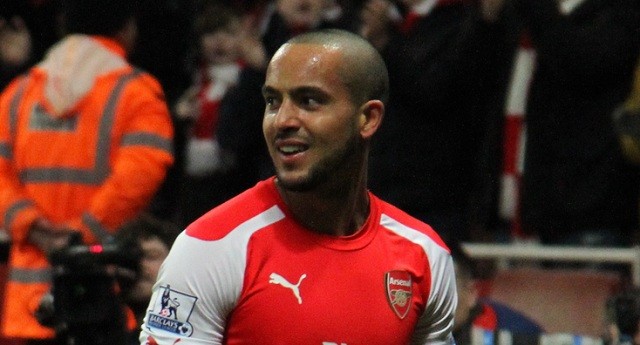 Early in the season Arsenal leads the Premier League in shots per game (22.4), as well as shots inside the penalty area (15.6 per game).  Arsenal has had no problem creating good opportunities in the early portion of the season, but they have been held to an unimpressive 5 goals in their first 5 league matches.  The key for the Gunners for the remainder of the season will be to start converting a higher percentage of these chances into goals.
One of the main reasons Arsenal is getting good opportunities to score has been due to the play of Theo Walcott.  Walcott missed significant time last season due to injury concerns, but now that he is back in the lineup he has reminded Arsenal fans what he is capable of doing.
Walcott has taken 2.3 shots per game from inside the penalty area so far this season, placing him 6th in the league in that category.  In addition, Walcott has also taken 0.8 shots per game from inside the six-yard box, and he is tied for the league lead in that category.  However, despite these impressive shot totals, so far it has only resulted in a single goal for Theo this Premier League season, as he has squandered many good opportunities from close range.  He will have to convert at a much higher rate if Arsenal is going to compete for a league title this season.
It is no coincidence that Theo Walcott continues to find himself in dangerous positions on the field.  His speed and movement make him extremely difficult to cover, especially on the counter-attack, and it is very likely that Walcott will continue to find himself good scoring opportunities throughout the season.  Although he has not done so yet this season, Walcott has demonstrated in the past that he can find the back of the net.
During the 2012-2013 season Walcott scored 21 goals in all-competitions in a total of 31 starts and 12 substitute appearances.  14 of these goals came in league matches, and Walcott finished the season ranked 13th amongst players with at least 10 league appearances in goals per 90 minutes in the Premier League with a total of 0.55.  In the 2013-2014 and 2014-2015 seasons combined, Walcott was able to score 10 Premier League goals in a total of 1,301 minutes, giving him a solid rate of 0.69 goals per 90 minutes.  And although it is a small sample size, if you simply look at the 2014-2015 season Walcott averaged an even more impressive 1.01 goals per 90 minutes.
Walcott has been able to score at a very successful clip over the past 3 seasons, and there is little reason to believe that he won't regain his old form as this season progresses.  There is little question that Walcott will continue to find himself in good scoring positions, and it won't be long before he starts converting more of these chances into goals.  Arsenal should stick with their speedy striker for the foreseeable future.