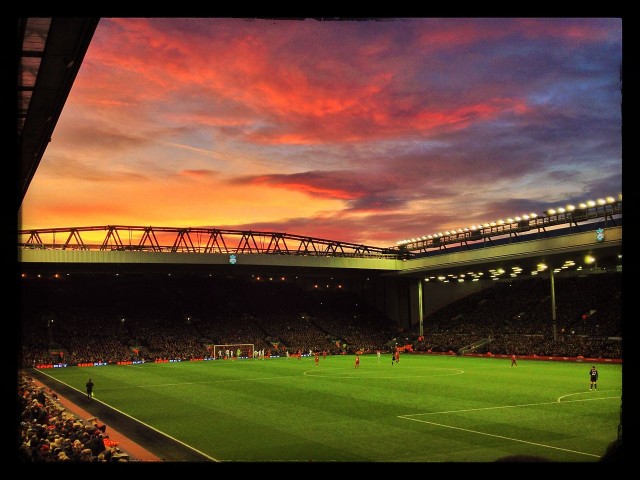 Brendan Rodgers and Liverpool will be looking for their first victory in three matches with a meeting against Norwich on Sunday. The team is coming off a 1-1 draw against Bordeaux in the Europa League but many of the players who will appear this weekend were rested in preparation.
For the upcoming Premier League match, Rodgers may decide to use a 4-3-1-2 formation in order to inject some more offensive power into the lineup and so that the team looks more fluid when transitioning from defense to attack.
Goalkeeper
Even if it looks like Simon Mignolet will have an easy match against Norwich, he should remain on his toes since they are coming off scoring three goals against Bournemouth.
Defence
Right-Back
Nathaniel Clyne should have a lot of opportunities to get forward if the Reds dominate the ball and he shouldn't have too much of a problem with marking Jonny Howson. He has arguably been the best defender on the squad this season and he has definitely been one of the most reliable and consistent players so far.
Center-Backs
The pair of Martin Skrtel and Mamadou Sakho might be the one to take the field on Sunday given Sakho's fantastic performance against Bordeaux and Dejan Lovren's shaky performances the past couple of matches.
Both are more than capable enough to handle the Norwich attack, but they will have to pay special attention to the veteran Wes Hoolahan since he already has four assists this season, more than any Liverpool player.
Left-Back
With Alberto Moreno excelling against Bordeaux, he deserves another start this Sunday. His speed and attacking ability should be effective against a team who should concede a lot of possession to the Reds.
The Spaniard hasn't gotten a lot of playing time this season, mostly coming as a substitute, so this is a perfect opportunity for him to impress Rodgers.
Midfield
With Jordan Henderson in America to receive treatment on his injured heel it looks like the hard-working but creatively-lacking trio of Emre Can, Lucas Leiva and James Milner will get another start. Can has not looked his best at all this season and it is on him to get back into form given that he has been given more than a few chances.
Lucas' defensive ability should be extremely helpful against Norwich and if he can successfully mark Hoolahan out of the match, it should really help Liverpool win the match. Milner will be the one donning the captain's armband this weekend and his leadership is essential to a squad that needs to find its identity.
This Sunday will be Philippe Coutinho's first after serving his one game suspension in the Premier League and hopefully he will have a cooler head. His creativity was sorely missed against Manchester United and, if he is deployed behind the strikers, he should be able to have a bigger influence on the attack.  
Forwards
In an effort to jumpstart the Liverpool attack, Rodgers should really consider starting Christian Benteke and Danny Ings together up front.
Benteke has often looked completely alone in the attack and having somebody to take some of the goal scoring pressure off might be the key to improving his performance. Giving more playing time to Ings will really help the player since he hasn't been able to find his place in the squad as of yet.
(4-3-1-2)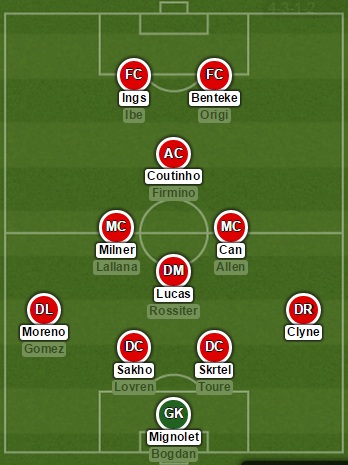 Via – Lineup Builder