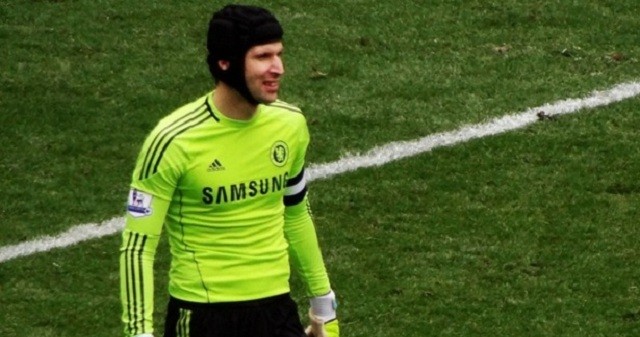 Arsenal face Chelsea at Stamford Bridge Saturday morning.
The two London clubs played each other in early August in the Community Shield with Arsenal coming away with the win. Alex Oxlade-Chamberlain scored the lone goal in what was a tightly contested 1-0 win for the North London club.
We won't see Oxlade-Chamberlain start in this match though, after the torrid time he had in Zagreb Wednesday night. Arsenal as a whole was poor in their first match of the Champions League group stages. Arsene Wenger is likely to shake up his squad ahead of their trip to West London.
Olivier Giroud is another player we are unlikely to see after he was sent off in the first half against Dinamo Zagreb for dissent and then a clumsy foul. Giroud looks bereft of confidence and it's difficult to imagine him getting into the starting lineup in any meaningful game in the next few weeks. The Capital One Cup may be his best bet.
Wenger will have a decision to make regarding his center back pairing. Per Mertesacker could be in contention to return to the first team after missing time with a serious virus. In his absence, Gabriel has played exceptionally well and Wenger may be reluctant to take the Brazilian out of the starting lineup.
Other than that, we should see Francis Coquelin, Theo Walcott, Petr Cech, Hector Bellerin, Aaron Ramsey, and Nacho Monreal return to the starting lineup.
Here is Arsenal's most probable starting lineup against Chelsea.
Goalkeeper – Cech
Cech returns to his old stomping ground for the first time. He's already played Chelsea once this season, but playing at Stamford Bridge in a different uniform will pose the Czech international with a whole new challenge all-together.
Nevertheless, Wenger will expect Cech to put in a top-notch performance, and the goalkeeper will abide because of the consummate professional that he is.
Right Back – Bellerin
Mathieu Debuchy's performance on Wednesday showed exactly why Bellerin is the automatic first choice right back. Bellerin posses a much greater threat going forward, is a better crosser of the ball, and has excellent recovery speed to make a good defender. The Spaniard's return to the squad is a welcome one.
Center Backs – Koscielny & Gabriel
Laurent Koscielny and Gabriel will continue their partnership in the heart of Arsenal's defense. Mertesacker will have to earn his place back in the first team after a string of excellent performances by Gabriel.
Saturday may be too soon for the big German's return anyways and the Capital One Cup midweek match against Tottenham is a more feasible return date for Mertesacker.
Left Back – Monreal
Like Debuchy, Kieran Gibbs showed exactly why he is not the first choice left back anymore. He inexplicably ducked at the first post during a corner to allow the ball to sail over him for Zagreb's second goal. He has become somewhat of a liability in defense, especially when he ventures forward, and does not provide the same tenacity or stability that Monreal provides down the left.
Defensive Mid – Coquelin
The moment Coquelin came on the pitch Arsenal had a little more bite in their midfield. Arsenal's lone goal on Wednesday came from an excellent interception high up the pitch by Coquelin.
The Frenchman will come up against Cesc Fabregas, John Obi Mikel, and Nemanja Matic. Chelsea's midfield has looked suspect this season and Coquelin will look to compound their misery with another solid performance.
Central Mid – Cazorla
Santi Cazorla clearly missed Coquelin, his usual midfield partner. He struggled controlling the midfield because Mikel Arteta couldn't stamp his authority in a physical sense. This left Cazorla exposed and didn't allow him to transition Arsenal's counter attack quickly.
Attacking Mid – Özil
Mesut Özil had a tough first half on Wednesday, as Dinamo Zagreb wouldn't give him any space to operate with. This was a problem for most of Arsenal's players in the first half.
Özil looked better in the second half and was actually an effective false nine until Theo Walcott came on the pitch. Özil got himself into a few dangerous positions, scored a goal but was ruled offside, and missed another chance that the goalie saved well.
Özil comes in for a lot of criticism for not shining against big opponents like Chelsea. This criticism is a bit unwarranted at times. Although he may not always get on the ball as much as you would like in these types of games, he always seems to create a few chances for his teammates.
Özil likely has trouble making an impact on these types of games because teams like Chelsea, Man City, and Manchester United plan for containing him. Özil is not a player like Cristiano Ronaldo who is individualistic; Özil is the type of player whose play is built around making his teammates better.
Wide Right – Ramsey
Arsenal missed Ramsey's energy on the right on Wednesday. You can't fault Wenger for resting the Welshman considering he has played every minute of the season for both Arsenal and Wales. Ramsey's return to the squad over the weekend is a welcome one.
Wide Left – Alexis
Like most players on Wednesday, Alexis had difficulty making a difference on Wednesday and was forced to do too much work once Giroud was sent off.
The Chilean still hasn't fully recovered from his busy summer and a week's rest after this match will be good for Alexis. He will be working harder than ever against Chelsea.
Striker – Walcott
Walcott will start at striker after Giroud was sent off against Dinamo Zagreb and exhibited horrible body language throughout the match. Giroud is clearly lacking confidence and based on Wednesday's performance, it could be a few weeks before we see Giroud get significant playing time in a meaningful match.
Walcott on the other hand, scored has second goal in as many matches and looks full of confidence. He will be raring to go against Chelsea and his pace could pose Chelsea's backline a serious problem.
(4-5-1)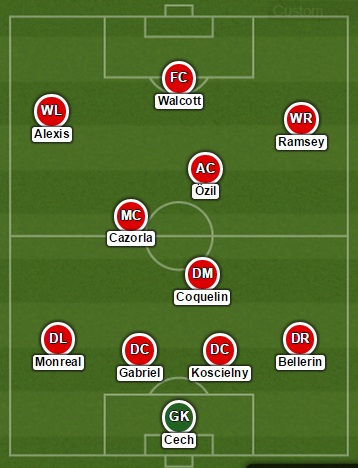 Via – Lineup Builder