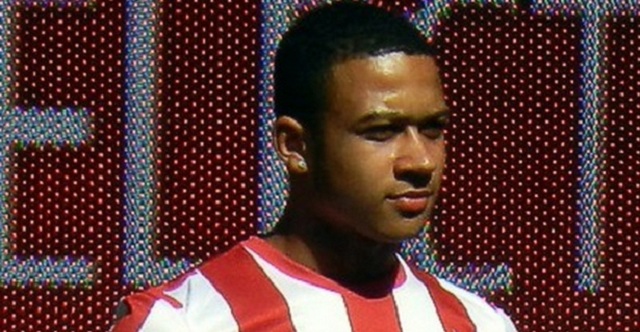 Manchester United comfortably dispatched of Liverpool with a 3-1 victory at Old Trafford as £36 million record-breaking teenager Anthony Martial scored a dream debut goal.
However, Martial's incredible debut and the consummate ease of United's victory certainly helped to deter the questions regarding the glaringly bad game of £25 million winger Memphis Depay.
Arguably, Depay is the more proven signing ahead of Martial, after he finished the 2014/15 season with PSV Eindhoven carrying a league title and the Eredivisie top goal scorer crown after scoring 22 goals.
Depay also played a pivotal role in Netherlands 2014 World Cup campaign under the guidance of Louis Van Gaal. He became the youngest ever Dutchman to score at a World Cup, when he scored against Chile at the age of 20 years and 4 months.
However, Depay's performance in one of the biggest fixtures among United fans left a lot to be desired. Depay was substituted by Van Gaal at half-time after he failed to produce anything in an attacking sense. In turn, the first-half as a collective was one of the worst spectacles of the season so far.
According to Squawka statistics, Depay created zero chances and committed zero tackles. He attempted one take-on in the 42nd minute which proved unsuccessful as Roberto Firmino tackled him. The Dutchman's delivery in the box was also terrible as he managed to complete just one of his six cross attempts.
His replacement, Ashley Young's statistics failed to leave Depay worrying that his position is under threat. Although, the previous season proved that Young has the ability to displace any winger at United if he is given a run in the side. Young's performances left £59.7 million British record signing Angel Di Maria pleading for his inevitable exit to Paris St Germain.
Young was fouled as he won the free-kick for Daley Blind's opening goal. He also played a basic pass to Martial, before the Frenchman proceeded to annihilate Martin Skrtel and seal the 3-1 victory. Aside from all of the signings Van Gaal has made since he took over, Young has proven to be one of United's most dangerous attacking players.
If the Dutchman continuously fails to make an impact, do not be surprised if Van Gaal reverts to playing one of his most consistent players in Young. Depay will be given more time than Di Maria, so it would be ridiculous to insinuate that he faces a similar fate. It would also be ridiculous for Van Gaal to drop Young purely because he is not a "big name" in world football.