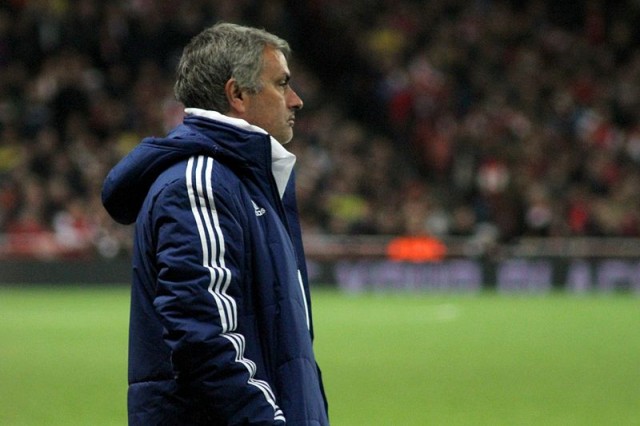 Undoubtedly the most shocking thing about the Premier League season thus far has been the plummeting status of defending league champion Chelsea. Now sitting at 17th in the league tables with only four points amassed through five matches, the Blues are not just off to a slow start—they're in serious trouble. They're also rapidly approaching a point at which they will have dug themselves too big a hole to climb out of, even with so many months left in the season.
To the casual observer, it may look like early season jitters or the mythical "championship hangover" that plagues great teams across all sports on occasions. Chelsea boasts so much pure quality, played so beautifully for the bulk of the 2014-15 campaign, and has a coach so legendary that it feels almost inappropriate to write the club off. I'm not quite prepared to go that far either. At the same time, there's no denying that the early signs for this club—even beyond its troubling position in the standings—are not good. Frankly, there are several indications that the free fall at Stamford Bridge may continue.
First among them is the fact that the week five loss to Everton (a 3-1 defeat in which the Blues never truly looked like a threat until it was too late) dropped Chelsea's start from bad to historically bad. According to a headline article at Betfair's page on Chelsea news and results, this is now the worst start for a defending champion at the Premier League level in 20 years. That's a pretty devastating distinction for the 2015-16 squad, and in the context of record-setting poor play, it's easier to view the early struggles seriously. A few losses or disappointing draws in the early going are generally not signs for alarm given the length of a Premier League season; but the worst start in 20 years for a champion is just a little bit worse than that.
Also relevant in the conversation is the play of Manchester City atop the tables. City is not quite turning heads the way Chelsea did early in 2014-15 when then-newcomer Diego Costa took England by storm. It's nevertheless off to a tremendous start, having collected 15 points in five matches. Man City already crushed Chelsea 3-0 early on (albeit in Manchester), and the club's upcoming fixtures include only one top-10 club (10th-ranked West Ham, whom they'll play at home) in the next four matches. There's a legitimate chance City heads into a late-October contest with Manchester United with a perfect 27 points, which could begin to put them out of reach in the same way Chelsea's fast start a year ago did for the Blues. This is to say, even if Chelsea rights the ship—a concept that appears increasingly unlikely—it almost already looks too late.
As to why it's starting to look like a long shot for Chelsea to turn its play around even internally, the attitude of Jose Mourinho has been far from encouraging. He is known for a stubborn refusal to place too much weight on match results or trends, at least publicly. Indeed, for virtually the entirety of the 2014-15 season, he was insisting his club was not invincible despite all evidence to the contrary. The problem is that this attitude doesn't seem nearly as constructive when the team is losing. Most of the Mourinho-related news following the latest Chelsea loss was about the verbal tirade he unleashed at Everton boss Roberto Martinez regarding the timing of their respective press conferences. But more troubling than this was ESPN FC's write-up, which quoted Mourinho suggesting that luck played a role in his side's 3-1 defeat. The struggling manager even went so far as to say, "We didn't deserve this."
He might want to give that some thought. Listening to Mourinho speak—as well as to the assertion of captain Branislav Ivanovic that Chelsea is playing better than its results indicate—you might assume this was a club that had lost a match or two because of questionable calls, or conceded a late goal on the road to be pulled into a draw with a lesser opponent. The excuses coming out of the Chelsea camp are those of a club used to winning that hasn't quite gotten accustomed to the idea that it just isn't doing so at the moment.
The truth is that the Blues have been abysmal. A minus-five goal differential in five matches is not only tied for worst in the league (with last place Sunderland) but also completely unacceptable for a defending champion. Chelsea has conceded an astounding 12 goals already, which is dead last in the EPL, with only Sunderland joining them in double-digits. The attack has been decent but not good enough, and short-fuse tempers exhibited by Mourinho and a few of his players (Costa in particular has looked moody) are indicative of tension throughout the squad.
Add it all up, and an ongoing free fall appears likely. Poor play and a competitive field to look up to are bad enough, but Chelsea's evident refusal to acknowledge its problems may be even worse..

[srp widget_title="News From FutnSoccer" widget_title_header="h4″ thumbnail_height="75″ post_limit="3″ post_title_length="12″ post_title_length_mode="words" post_content_mode="titleonly" post_date="no" category_autofilter_single="yes"]
[srp widget_title="" widget_title_header="h4″ thumbnail_height="75″ post_type="page" post_limit="1″ post_title_length="12″ post_current_hide="no" post_content_mode="titleonly" post_date="no" post_include="23044″]
[easy-share buttons="facebook,twitter,google,love" counters=1 hide_names="yes" native="no" total_counter_pos="leftbig"]