After another disappointing result during their travel to Goodison Park last weekend, Chelsea return home to welcome the Israeli side of Maccabi Tel-Aviv for the opening match of the UEFA Champions League group stage.
Three goals from the once Chelsea's transfer target, Steven Naismith, proved to be enough to sink José Mourinho's armada that remains completely adrift this season after dominating English football in the previous campaign. The Blues once again had more ball possession percentage and made several more attempts on goal, but their game proved to be ineffective from the kick-off.
Mourinho introduced some surprises into last weekend's starting line-up by placing Obi Mikel side-by-side with Nemanja Matic in front of the defensive quartet, but such change almost didn't produce any positive effects in the team's game. John Terry returned to the centre of the defence and Cesc Fàbregas assumed Willian's role as an advanced playmaker in Mourinho's 4-2-3-1 formation.
The Portuguese manager admitted that Chelsea's start of the season is surely the worst of his professional career but, at the same time, he waved off the fact of reportedly being under pressure. During an interview to the Guardian, Mourinho claimed that, "Pressure is being a refugee (…)  I am not feeling pressure. The results are not adapted to my quality and my status but I am coping well with the situation. I am the best man for the job."
Chelsea probably just need a solid win to get back on track and the upcoming match against a fairly more modest opponent such as Maccabi Tel-Aviv might present a good opportunity to achieve just that.
The Israeli side has, nevertheless, a fairly good set of players, from which we should highlight their Serbian goalkeeper Predrag Rajkovic, who arrived this summer from Red Star Belgrade, and Eran Zahavi, an extremely versatile attacking midfielder, who was FC Basel's executioner in the previous round of the tournament.
That being said, this is Chelsea's strongest possible lineup for their upcoming important match at Stamford Bridge next Wednesday.
Goalkeeper
With Thibaut Courtois sidelined due to injury for quite some time, Mourinho will surely trust his team's goal to Asmir Begovic, a fantastic goalkeeper who cannot take the blame for the team's recent defensive turmoils.
Defence
Twelve goals conceded in just five league matches are certainly worrying the Portuguese manager. The return to his usual defensive setup with John Terry and Gary Cahill in the centre of the back line is almost mandatory, as the team needs their experience in order to walk away from this swamp they are currently drowning into. Ivanovic and Baba Rahman will probably assume the position of full-backs.
Midfield
Obi Mikel is probably not an option for a match such as the upcoming one against Maccabi Tel-Aviv and for that reason Cesc Fàbregas will certainly return to his usual deep-lying playmaker role, alongside with Nemanja Matic, who will surely be the team's defensive midfielder next Wednesday.
Eden Hazard and Pedro Rodriguez will once again assume the wingers' roles and Willian will act as Chelsea's advanced playmaker or move a little bit up front, as some sort of shadow striker fueling the team's centre forward.
Forward
José Mourinho probably needs to implement some rotation in the front. Diego Costa's recent lacklustre performances call for some changes and this might probably be a good time for Radamel Falcao to pull rank and to return to his past goal scoring glorious days.
 (4-5-1)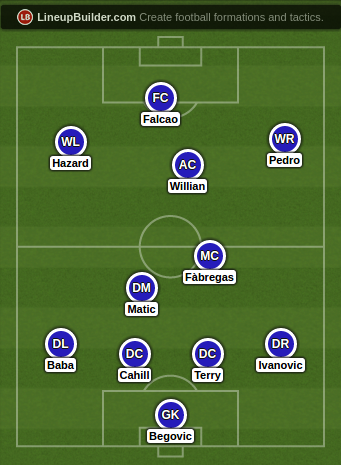 Via – Lineup Builder