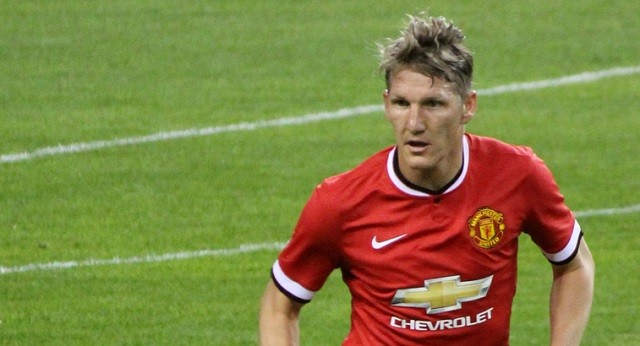 Several hours before the kick-off, the news on Wayne Rooney's injury began feeding "the worm of pre-match panic attack" of any Man United fan, "Who's gonna lead the lads to salvation if everything suddenly goes wrong?"
An answer was found in those acid green boots of German weltmeister – Bastian Schweinsteiger. Just like last summer against Argentina at Maracana, yesterday he yet again acted as an on-pitch head coach – this time on the mid-september jade turf of Old Trafford. His fervency to be wherever boots flied and bones crackled proved to be instrumental.
Having most touches of the ball – 106, and playing the third game in a row in the course of roughly 10 days, he delicately left behind all those worries about his last season's shattered form. Now he vaccinates his team-mates with unfadeable energy, exactly like Roy Keane did in that distant pre-social media era.
But what makes Bastian really stand out is his sky-high footballing IQ, which he neatly demonstrated seconds before Daley Blind killed the spider of Liverpool's net: the German gently embraced Nathaniel Clyne and with all the strength of his body began pushing him towards the 6-yard box, making the young right-back believe that either Mata or Young were about to cross the ball, whereas the Spaniard simply rolled it to the space free of any Liverpool player. Clyne was not there to close down thе pass, so Blind smashed the ball home.
Van Gaal's decision to mold a striker out of Fellaini negatively affected the sharpness of United's attacks. The Belgian is truly dangerous when he is free to roam, i.e. having a forward ahead of him. A forward like Anthony Martial, whose debut could've not been better.
The €50 million man danced through Liverpool's defense, curling the ball to the far corner of Mignolet's goals. After the match Van Gaal hailed Martial physical strengths, which were exposed at the moments of his successful battle for the ball against Lucas Leiva. A battle Bastian Schweinsteiger will always approve.
There are actually some people, who would rotate their forefinger around the temple, if you tell them that Bastian used to be a sparkling winger alike Marco Reus. Yet he really was. And it was Lois Van Gaal who moved him deeper into the center in 2009 at Bayern Munich, noticing that injuries are affecting Bastian's pace. But the main reason of this great shift lied in Bastian's celestial ability of thinking and decision-making.
Now particularly with David De Gea drawing some smiles upon United's fans, who missed a lot that sweet-sweet moment, when your goalkeeper jumps like an ever-cautious ginger cat to parry away a seemingly-unstoppable shot; with Matteo Darmian, who at times reminds of Paolo Maldini (it's no surprise Matteo is a product of AC Milan's youth system) in terms of determination, abruptness and ambidexterity; and with Man of the match Daley Blind, who besides possessing a great shot, appeared to have some De Gea-esque reactions, clearing the ball after Skrtel's deflected header, Manchester United indeed could acquire insurmountable solidity in the back, governed by the German midfield general.