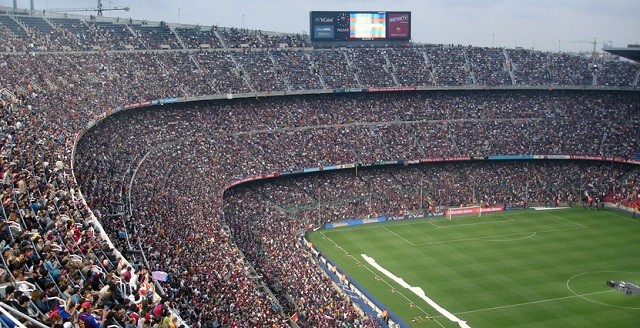 Barcelona have maintained their unbeaten status in La Liga with a good win against Atlético Madrid and need a solid, convincing result after a strong encounter with Roma in their Champions League opener that ended in a 1-1 draw.
Currently, they sit in 3rd place, just one point behind leaders Real Madrid and just behind Atlético on goal difference.
A win for Barcelona can rejuvenate the players after a tough UCL match while exclaiming their dominance and continue a 17 match winning streak in La Liga. This should be an easy victory for la blaugrana at home as Levante UD hasn't picked up a win in their 3 matches. I predict a 3-1 victory for Barca tomorrow night.
Goalkeeper: Marc-Andre Ter Stegen
Claudio Bravo is usually the first GK pick but picking up a calf injury has given the role to the German keeper. It's also good to be reminded that Ter Stegen produced a clean sheet for every other game in the Champions League last season and held his nerves against some of the most frightening attackers in Europe.
Left Back: Jordi Alba
Alba has practically lived in the left-back position since his debut in the 2012/13 season. Pace, strength and the ability to attack on a dime makes him an obvious starter pick.
Adriano could possibly start now that he's been given medical clearance. My gut feeling, though, is his lack of game time may cause him to underperform.
Center Back: Thomas Vermaelen
His performance against Malaga showed us his finishing ability and determination to make his mark for la blaugrana. With lots of potential on the ball, we could see him at his very best again.
Center Back: Jeremy Matheiu
Overall good performances make him a choice to start against Levante. Although his marking of Torres for the opening goal when he played against Atlético was questionable, he should have no problem against a generally weak attack.
Right Back: Dani Alves
The Catalan club spoke on their website saying Dani Alves has recovered well from injury and could possible start against Levante. "He is feeling fine, on Sunday we will decide whether he can play or not against Levante." Luis Enrique replied during a press conference.
However, Sergi Roberto has started every match for Barca so far as his replacement and could play this one as well he can covert himself from right-back to midfielder, which is always helpful.
Left Midfielder: Ivan Rakitic
Arguably the most dynamic midfielder last season for Barcelona and one of the best in La Liga in recent years, he is ideal for creating chances and providing the clinical finish.
Central Midfielder: Sergio Busquets
The man behind the number 5 shirt is often overshadowed by the huge names at the club but is often responsible for Barca's key defensive record thanks to his take-ons and few defensive errors.
Right Midfielder: Andrés Iniesta
Consistency is key in a unbeatable side and Iniesta has been that for years. Great ball control and barely caught off-guard, he's guaranteed to start. Not guaranteed to stay on the pitch, though.
Left Wide: Neymar 
Always a surprise for defense, he's also a playmaker. Given his good performance against Atléti, I can see him scoring a brace in a possible flurry of goals in the Camp Nou.
Center Forward: Luis Suárez
Sometimes a bit unethical and a bit dramatic at times, he has given plenty of assists and scored at crucial moments. A good run from him towards defense can do devastating things.
Right Wide: Lionel Messi
Barca's greatest goalscorer is just as dangerous without many goals as with them. Watch out for his long crosses, dribbling and ball possession from an unpredictable left foot.
Substitutes for this match are are going to vary now that Rafinha is injured as well as the possibility of fellow Brazilians Dani Alves and Adriano starting. Marc Bartra, Munir El Haddadi, Jordi Masip, Sandro, Gumbau, and Douglas are all good predictions on the bench for tomorrow's match-up.
(4-3-3)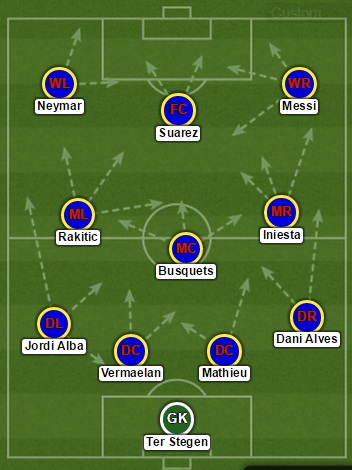 Via – Lineup Builder