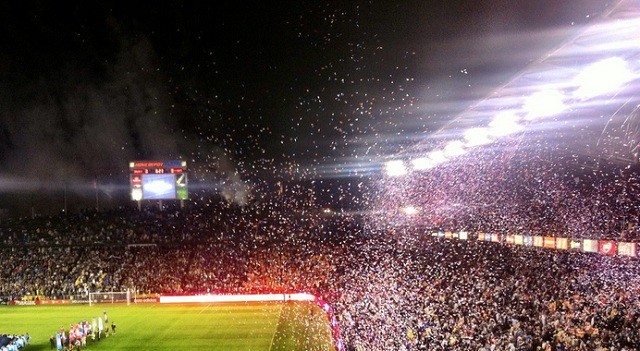 Imagine Chelsea, Arsenal, Los Angeles Galaxy, and Seattle Sounders in one tournament? It could happen if Major League Soccer commissioner Don Garber has his way.
Garber discussed his idea at the Soccerex Global Convention in Manchester, England this week, proposing the MLS and U.S. Open Cup champions would meet the English Premier League and FA Cup champions in a four-team tournament each year.
"We have been talking to the Premier League about doing some sort of official competition as opposed to just having clubs come over to the country on a random basis playing in a tournament that takes place every summer. I would love to find a way that we could play our cup champion and our league champion against an FA Cup and league champion in a tournament and play it in New York City every year. If not every year, then every four years."
The 57-year old New York City native further explained the proposition as well as the opportunities it provides for both MLS and Premier League.
"This concept of super cups involving the MLS, whether it's one with Mexico or one with some of the other leagues, would be smart. And many years ago they used to take place before MLS was in existence. It was called the Toyota Cup. That took place around the world. Overall there is no doubt that there are opportunities for the MLS and Premier League to work more closely together on either a tournament or some other type of activity, but that is about as far as it has gone. You have calendar issues, but there is no reason why it couldn't (happen)."
The prospects of a tournament like this are quite intriguing. From an MLS perspective, the idea is absolute dynamite. Realistically, there is much to gain in this scenario for Garber and MLS. First off, it would give MLS another line of communication with the EPL, and create opportunities in the future. The two leagues are already intertwined during the summer because there are often numerous English sides (Chelsea, Manchester City, Liverpool, etc.) that come to America for their preseasons.
• Get more New York soccer coverage at MetroSoccerNation.com
MLS and EPL clubs meet many times over the summer, and on numerous occasions it has been the United States team knocking off the English side. The Red Bulls stunned Chelsea FC this summer in a 4-2 victory at Red Bull Arena in Harrison, NJ. The MLS All-Stars are also 5-3-0 all-time against English opposition at their annual MLS All-Star Game held each summer.
Another major sell with a potential tournament like this is for the benefit of the fans. While the U.S. Open Cup doesn't necessarily receive the greatest coverage because of many smaller markets teams being involved, this situation could allow both leagues to work out some sort of television deal with ESPN or NBC Sports Network to televise this mini-series. By doing this, both leagues would be further entrenching themselves in the opposite country's culture.
While there are plenty of benefits for the MLS, the Premier League might not be so eager to jump at an opportunity like this. Friendlies are one story, and while this wouldn't be a friendly, it's not exactly a World Cup final either. The EPL features some of the greatest clubs in the world, so it would be vital that their MLS opponents are on top of their game. The MLS has worked very hard to up its reputation, especially with the growing number of foreign players making their way to America.
Long time Liverpool captain Steven Gerrard spoke about the standard of play in MLS back in August, and revealed just how impressed he has been. "The level is a lot stronger than what other people suggested when I came. I've been really surprised."
That being said, the MLS teams would definitely need to be up to the task in a competition like this.
For example, if the EPL has Chelsea winning one year, then Manchester United the next, and the MLS never gets a sniff of this crown, the Premier League clubs are going to grow bored very quickly and that could damage MLS' reputation not only in England, but around the globe in general.
Another major question would be, what is the incentive for any of the clubs involved? Most competitions involve some sort of monetary prize in addition to champions medals and a trophy. The Lamar Hunt U.S. Open Cup final is coming up in less than three weeks, and involves all of those aforementioned prizes, and additionally includes a spot in next year's CONCACAF Champions League. Garber and whomever else is involved in creating this four-team tournament would have to be creative when it comes to what the prize is because if it is too small then the clubs may not play up to their potential.
*Metro Soccer Nation is a New York-based soccer website that primarily focuses on the two Major League Soccer teams in the area, New York City FC and the New York Red Bulls. In addition, we also provide excellent MLS coverage along with United States National team news. We aren't just writing all of the time though. You can check out the Metro Soccer Podcast on our site, as well as on iTunes for witty and fun MLS banter.