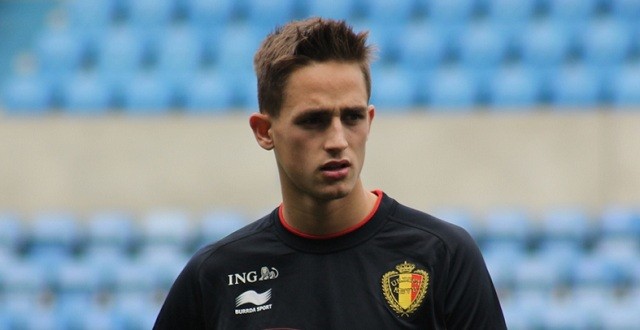 Manchester United's young starlet, Adnan Januzaj, recently secured a loan move to the Borussia Dortmund outfit. Within 20 minutes of his debut, he opened his account scoring for them in a friendly against second-division side St. Pauli. Supporters and pundits alike have questioned the loan move since United's attacking options are so-called "depleted". Nonetheless, the move was just and will help the young Belgian hone his craft.
Lack of Strength
If you were to build the perfect forward/winger for the Premier League, he would have pace, power and strength. One may look to the build of Cristiano Ronaldo or that of recent United signing, Memphis Depay as the perfect mold for that position.
Still only 20 years old, Januzaj's body build is not there just yet to continually take on the physical defenders of the Premier League. When United legend, Ronaldo, arrived at Old Trafford in 2003, he had a similar build to Januzaj's, but over time he went on to hone his skills along with his body. At 6'0" and 165 lbs, Januzaj's loan move should give him time to gain some muscle to his wiry frame.
System Issues
We're almost a month into the Premier League season, couple that with some Champions League matches, and it appears United manager, Louis van Gaal, has decided on a 4-2-3-1 formation. Long gone are the days of Sir Alex Ferguson's free-flowing attacking ways and what we have now is van Gaal's balance and possession.
Januzaj's main strength is his ability to dribble in open space at defenders, which is generally looked down upon in van Gaal's system. With Wayne Rooney, Depay, and new United forward, Anthony Martial trusted to get the goals from the service of Juan Mata and Ander Herrera, there is little room for Januzaj to express himself.
Nani Syndrome
Nani, the former winger for United had this great ability to dazzle and leave supporters debating if he was going to finally pull his talent together and become the next Ronaldo that they hoped for. Unfortunately, he would become consistently inconsistent during his tenure at Old Trafford.
His ability to read the game and make the proper decision were certainly not his strengths, as he often shot when he should of passed and passed when he should of shot. Nani would cause many headaches and continue to do this throughout his twenties. Januzaj shows glimpses of that "Nani Syndrome." Still very young, he will need to learn to properly read the game and make the split second decision as to whether he should pass or shoot at the correct time.
Who will he be?
Given the current style that United play, along with his underdeveloped physical traits and his inability to read the game at this moment, the loan move to Borussia Dortmund should do him wonders.
When he returns more developed and perhaps eventually with a more attack minded manager (Ryan Giggs?), he, along with Depay should be terrorizing opposing defenses for years. It's Januzaj decision as to whether he wants to be remembered as the next Nani or fulfill his potential and carry on the great tradition of the number 11 jersey.