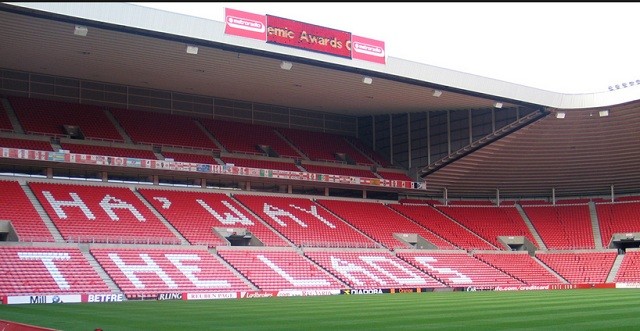 This Sunday's game against Sunderland could be an interesting one.  Sunderland looks a team out of sorts and have looked even more dismal this season so far than Tottenham has. Tottenham have always done well against Sunderland in recent years.
In this fixture last season Sunderland managed a draw but in the last 4 meetings before then Tottenham have come away with the victory out-scoring Sunderland 10-3. The goals are there for the taking. But who is going to get them? Spurs' goal-scorers have been few and far between.
Kane has looked starved for decent service and no one else seems to have that touch. That's why the international break comes as a such a blessing. With Kane and Son doing very well for their respective countries, that should give them lots of confidence coming into a game where the opposition is there for the taking.
This is a perfect opportunity to give Son his first start. He was amongst the goals this past week in stunning form hitting a hat trick for South Korea. The only real question is who is going to take Eriksen's place while he is still injured? The other player who has shown the slightest ability to play there is Dembele but he is injured as well. That means the next option would be Mason. He has the passing ability, but just not the vision that Eriksen has. With him pushed higher up that brings the DM positions into question. I would love to see Alli get the start.
He has done really well coming off the bench and I feel he has earned it. Dier is getting better and better in that role, much better than the dismal Bentaleb lately. As far Kyle Walker goes, it is probably time to give him a break. He has been very inconsistent as of late. Trippier would be a welcome change and should really give Walker a challenge for that spot if he gets the chance on Sunday. Every other position should be business as usual.
4-2-3-1
GK: Lloris
He was in fine form against Everton and kept the score at 0-0. Let's just hope we won't need his heroics too much on Sunday
LB: Rose
Rose looks much more reliable going forward as well as defending than Davies. Rose has the pace and the delivery to get balls to Kane.
RB: Tripper
Kyle Walker has been so out of sorts lately and not in his top form. It is time to give Trippier a shot to challenge Walker for that spot.
CBs: Vertonghen and Alderweireld
The best possible pairing. Vertonghen needs to step up and be leader. He needs to organize his team, but mainly his defense. They have looked devoid of confidence and just can't seem to keep themselves together to close out a game. Alderweireld is still adapting to the league, so let's hope he can find his feet quickly and build some more confidence.
DMs: Dier and Alli
This midfield pairing could prove amazing or disastrous. Both are very young and inexperienced. This is a perfect game to give them a shot. Alli has been amazing off the bench and Dier is growing into that role more each game. They could really work well while Mason is pushed forward in the absence of Eriksen and Dembele.
LM: Chadli
He has pretty much made this position his own. No one has really challenged him for it. Lamela has been dreadful and Townsend looks so out of favor I am not sure if he will ever play. Njie looks to be his only real threat but he is not eligible yet from his transfer.
CM: Mason
With the absence of Eriksen and Dembele through injury, he looks to be the best bet in linking the midfield to Kane. He has the passing ability, just not necessarily the vision and guile of Eriksen.
RM: Son
Looks set to make his debut. His pace down the right and his unpredictability should make him a nightmare for those wobbly Sunderland defenders.
CF: Kane
Looks to have found his scoring touch with England, so let's hope it translates into scoring for Tottenham too. We definitely need him to hit the heights of last season.
(4-2-3-1)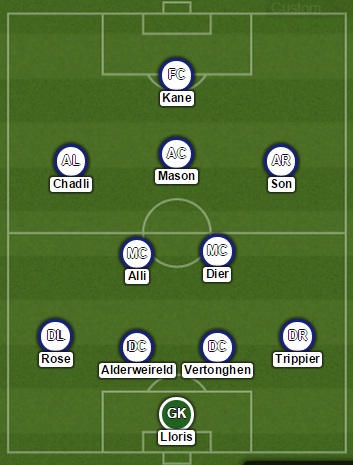 http://lineupbuilder.com/?sk=8p02