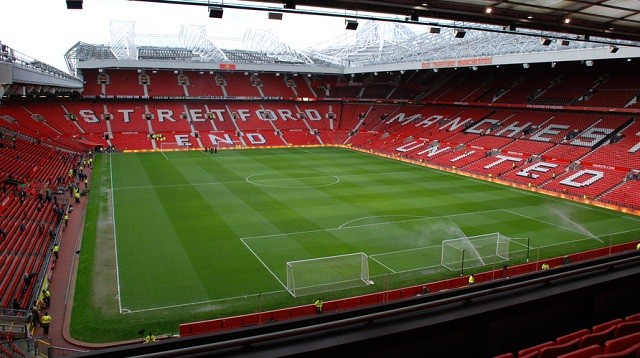 The international break came at a perfect time for both Liverpool and Manchester United. Both teams are coming off tough losses and both managers need to figure out which players fit their ideal playing style for the rest of the season. For Brendan Rodgers, he needs to figure out how the team will function without two key players, Jordan Henderson is still dealing with a foot injury, while Philippe Coutinho is suspended after being red carded against West Ham.
Goalkeeper
Simon Mignolet will be hoping for a stronger defense this Saturday than what he got the last time the team played. Even if Wayne Rooney and United haven't found the back of the net too often this season, they have more than enough talent to embarrass Mignolet and his defenders once again.
Right-Back
Nathaniel Clyne will be facing new signing Memphis Depay and he should be up to the task. Clyne's willingness to focus on defense should make him the ideal defender for Depay and his sloppiness on the ball. Clyne also has the necessary speed and strength that should match what Depay offers.
Center-Backs
Dejan Lovren was a disaster last week and that could mean Mamadou Sakho gets to start beside Martin Skrtel. If everyone beside them handle their jobs well, Skrtel and Sakho will be able to focus all their effort on stopping Rooney, a task that hasn't been that difficult so far this year.
Left-Back
Joe Gomez will have his hands full with Juan Mata lining up across from him, the Spaniard is an extremely difficult player to mark. Even then, Gomez has the ability and confidence to nullify the tricky Mata. If Rodgers wants to have a faster, more experienced player out on the field, Alberto Moreno is the perfect option.
Midfield
With Jordan Henderson still out with an injury, Emre Can, Lucas Leiva and James Milner will all probably start on Saturday. Lucas should be able to deal with Ander Herrera relatively easily and that will allow Skrtel and Sakho to focus on stopping Rooney.
Having Lucas on the field will also allow Can to have more freedom around the pitch and we may finally see the full range of his passing ability on display. The always industrious Milner will likely takeover the captain's armband and it will be up to him to inspire his teammates to find a way to defeat their bitter rivals.
Right Wing
The pressure will be on for Roberto Firmino to have a good game against United, he will be relied on as the main creative force for the attack. He had a great match against Arsenal but that didn't translate to any goals and hopefully he can change that on Saturday. His dribbling skills should allow him to get past Luke Shaw a couple of times, which, if everything works out, should result in more than a few opportunities to score.
Forward
Christian Benteke will need to have a bigger influence on the match in order for Liverpool to have a chance at winning the match. He should be able to outmuscle Daley Blind and Chris Smalling easily and if he pressures Sergio Romero, the United 'keeper will likely make a mistake.
Left Wing
With two key players not in the lineup, Adam Lallana may get another start. His Liverpool career has not been the best, but he should see plenty of the ball since he will surprisingly be one of the more veteran players out on the field. His hard-working style of play is also a perfect fit this weekend since he will be able to help Gomez out. If Lallana is still not ready, Jordon Ibe is the only other choice Rodgers has.
(4-3-3)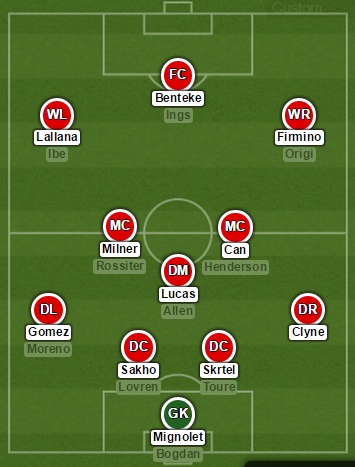 Via – Lineup Builder