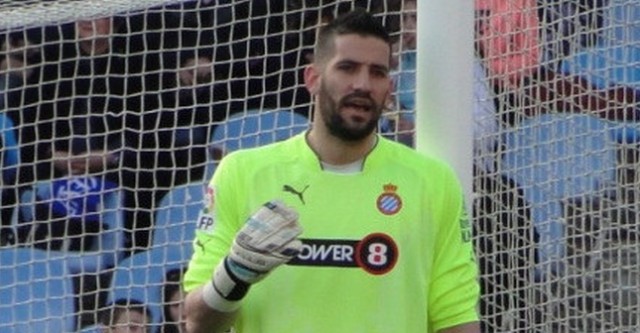 Real Madrid's start to this new season is not quite ideal, with Los Blancos drawing their first game 0-0 against Sporting de Gijón, and taking only 4 points in 2 games. And although many fans believe that Los Blancos are back to their best after their 5-0 thrashing of Real Betis, this might not be the case.
In reality, Real Betis is a newly promoted club, and nowhere close to Real Madrid's stature. So the 5-0 win against them is nothing special. However, Real's game against the very competitive Espanyol, would be the best stage for Los Blancos to show their strength and winning mentality.
Goalkeeper – Kiko Casilla
In the game against Real Betis, Keylor Navas was in a very good form, making some great saves; including a penalty save. However, he is one of the main players in question, as many believe that his morale might not be up par.
This is because he was one of the main components of the bizarre De Gea transfer saga, where he was supposed to swap with De Gea and leave Real Madrid to Manchester United.
Perez's disloyalty to Navas and signs of mistrust in him, could've hurt Keylor's morale, so Kiko Casilla would be the best choice in this instance. He also should've always got a big game chance to show his quality, and this would be the perfect time to give him the opportunity.
Right Back – Dani Carvajal
Now, this is controversial, but I believe that Dani Carvajal would be a better choice to play against Espanyol than Danilo. Mainly because Danilo is a new part of the squad and as witnessed in the Sporting de Gijón game, he still isn't perfectly matched with the other players.
Carvajal has experience with the squad and can play an important role on the right side of Real Madrid's defense (at least for the time being).
Central Defender – Pepe
Experience over talent. Pepe should play instead of Varane, as he is more experienced and can play a more stable role in Real Madrid's central defensive line. Raphael Varane has shown that he could be incredible in some games, but very weak in some other games. So it would be better not to risk anything, and put the more experienced Pepe in the centre back position.
Central Defender – Sergio Ramos
Here goes the obvious choice. Sergio Ramos will surely be playing in the centre back position against Espanyol, as he is now the captain, one of the most important players and overall components of Rafa Benitez's Real Madrid. He has always been a key player, but now he is the leader.
Left Back – Marcelo
Another obvious choice is Marcelo who doesn't have any major competitor in his position, now that Coentrao has joined AS Monaco on a loan deal.
Central Midfielder – Luka Modric
Luka Modric has always been the heart of Real Madrid; controlling their attack and defense, and giving a certain balance to the Los Blancos.
Central Midfielder – Toni Kroos
Toni Kroos is the main ball distributor and architecht of Real Madrid, and he will play an important role in the midfield against Espanyol. He only needs to balance out his defensive and offensive efforts, and then he could easily lead Los Blancos to a win with his pinpoint passes and brilliant playmaking.
Right Wing – James Rodriguez
Even though James Rodriguez is mainly a Central Attacking Midfielder, he has been used in the Right Wing position by Rafa Benitez, and has played very well. He scored 2 stunning goals and gave 1 assist in Real Madrid's 5-0 win against Real Betis. So naturally, James is now a main place holder in Rafa's starting line up.
Central Attacking Midfielder – Gareth Bale
Similar to James Rodriguez, Gareth Bale did well in his new position against Real Betis, scoring 2 goals and giving 1 assist. Bale has started this season with much to prove, and he won't back down against Espanyol.
Left Wing – Cristiano Ronaldo
Real Madrid and arguably world's best player has had a shaky start in his first few games with Los Blancos. He hasn't scored or assisted any goals, which is not something you see every year from a natural goalscorer like Cristiano Ronaldo. Similar to Bale, he has much to prove as well, and would want to show the critics that his age is not affecting his quality.
Striker – Karim Benzema
Last but not least, it's Karim Benzema. He who had gone through many injuries, made his return against Real Betis and scored a beautiful header. He has impressed many of his fans upon his return and similar to Gareth Bale and Crisitano Ronaldo, he would also be looking forward to a return to the top form.
Formation (4-5-1)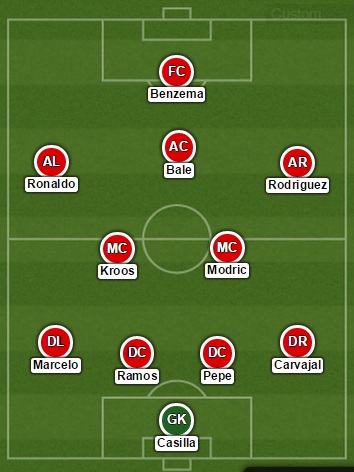 Via – Lineup Builder