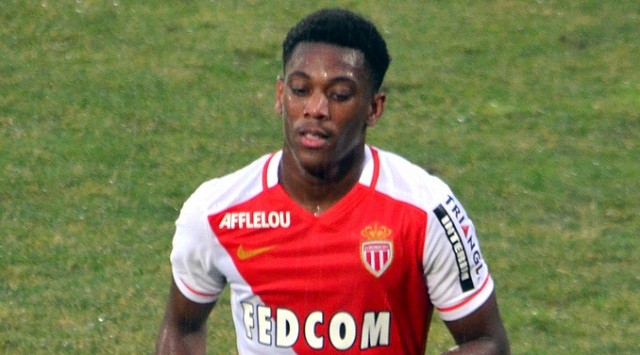 High voltage. Tension. A resounding high-pitched beep in your ears. If you put a bottle of beer at the edge of the table – it will fall through stomps and vibrations, caused by the fans marching towards Old Trafford. It's Manchester United vs. Liverpool this Saturday.
Michael Carrick may miss the clash due to calf injury, while Phil Jones is ill. Here is the possible line-up.
Goalkeeper
Sergio Romero is finally recognized. A goalkeeper, seen predominantly on international level, is now relishing the club football. "Playing for United is a dream and if God helps me this dream will never end," the 28-year-old Romero told the Argentinian daily La Nacion.
"As I have been saying, I have to thank Van Gaal for trusting me. It's important for a goalkeeper to have this support because there is no rotation between goalkeepers – a goalkeeper starts or he is benched." The indecision of David De Gea will make Van Gaal choose Romero over him.
Defense
Left-back
Although both goals United conceded against Swansea came from the wing Luke Shaw was responsible for, his overall movement and decisions seemed mature. He once again showed his attack-mindedness registering an assist against Switzerland at Wembley yesterday.
Center-backs
Chris Smalling still looks solid. Especially comparing to himself of last fall. No alternatives.
"The one who is improving is Daley Blind. It is striking how he has improved after a year at Manchester United," Johan Cruyff recently told Voetbal International. 
Indeed, Daley Blind looks to be up for every position he is told to cover. Though the line between him, Shaw and Smalling is still not as 'compact' as Van Gaal demands.
Right-Back
Matteo Darmian keeps on gaining Old Trafford's sympathy due to his hardworking performances.
Midfield
Center
Michael Carrick picked up a calf injury on England's camp, and its seriousness is not yet officially revealed. However, according to Daily Mail he might be declared fit to face Liverpool.  Otherwise, Bastian Schweinsteiger will have to play at the third game in a row, as he started both matches of his country. Not completely in form yet – he may have a tough tie against Liverpool.
Morgan Schneiderlin will hope to show the same high-level he produced during France's friendly victories. The level that he is yet shy to demonstrate in United's colors.
Left inside
Memphis Depay is arriving in bad mood, as the Dutch lost both their games. So given his uncertain temper, the quality of his performance at Saturday's clash is absolutely unpredictable.
Right inside
Juan Mata's cross turned into an extraordinary goal, which remained Spain's only successful effort against Macedonia. This was his first national team call-up for this Euro 2016 qualifying campaign. The ex-Valencia man definitely misses last season's link-up with Ander Herrera. However, his football intellect is gradually improving the chemistry between him and United's new central midfield duo.
Attack
United's new multi-million recruit Anthony Martial is believed to start behind Wayne Rooney, as Van Gaal has stated several times, that England's captain, who just broke Sir Bobby Charlton's long standing national goal-scoring record, is his first-choice target-man.
The Frenchman has enjoyed his debut for France and is buzzing to justify the trust of the Red Devils' coaching stuff. Ander Herrera seems to be left out. Despite an overall good performance against Swansea, the circumstances showed that he felt much comfortable when playing deeper in the midfield.
(4-2-3-1)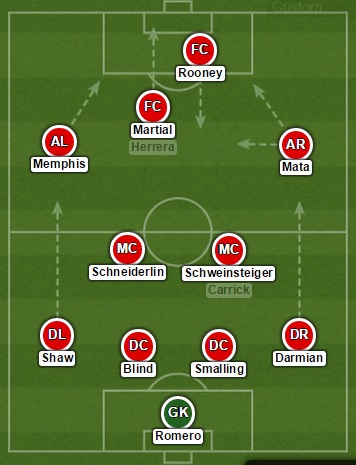 Via – Lineup Builder