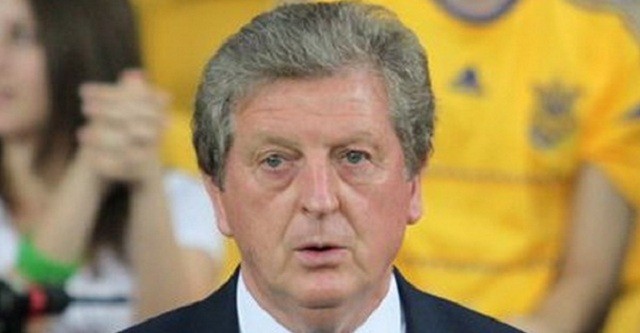 More than a decade has passed since the summer, when every England fan could declare, "Still, I am proud of the lads". Euro 2004. A midfield of Gerrard, Lampard, Beckham and Scholes, where the latter produced his amazing universality covering the left wing backed up by Ashley Cole, while "The Next Mighty Mouse" Owen and "Just-give-me-the-ball" Rooney tormented the continental defenses.
Today, Wayne Rooney – carrying the captain's armband, remains their only survival from those romantic times, when Zinedine Zidane was at his prime; Cristiano Ronaldo had no gym subscription; Arjen Robben had hair; Felix Magath was still sane. With this eye-catching stagnation of modern international football, where a regular fan raises his eyebrow on Italy's or Portugal's starting line-up so high, that he may end up losing it – Eder…it's an Italian striker, hold on, now he plays for Portugal, wait a moment, who are these guys? – England national team looks like to be chasing the best, which are merely 3 teams – Germany, Spain and France. Belgium also looks strong, however, the lack of experience on high-level still tends to work against their fragile trembling knees.
Thus, England seem to have a solid chance to plant the seed of pride amid their fans. But not only because of the international crisis; the yesterday's greenhorns are finding the ground, and if they keep up the same way they did last season, The Three Lions might remember how to growl out once again.
The Goalkeeper and The Defense
Don't bore Joe Hart, if you want him to shine. Don't let him jobless. He is a keeper who seeks motivation and needs flames of Hell flounder around his goals to stay concentrated. Unfortunately he has some shaky defense in front of him that by all means will keep him on his toes.
The main issue of England's backline is the absence of chemistry between the center-backs: Gary Cahill seeks John Terry, but finds Chris Smalling, who looks for Phil Jones, but the latter has awkwardly injured himself yet again. Luckily, there is one pair that – depending on how the season will go – may form a strong partnership: experienced Phil Jagielka and youngster John Stones. But this is way too utopic, as Jagielka still looks addicted to the mesmerizing confidence Sylvain Distin possessed, that allowed the Everton captain to lose his concentration with impunity every now and then. Anyways, it is the pair of Cahill and Smalling that looks to be the primary choice due to the instability of the rest.
The left full-back's position will be Luke Shaw's prerogative, if the United central duo gently closes the critics' mouths, and Shaw himself stops disconnecting from the games at opponents' counter-attacks. Otherwise, currently injured Leighton Baines – if revives – could claim his passionate willingness in covering the left flank. Thus, the seemingly absurd possibility of lining-up an Evertonian Trinity in the back may turn out to be a hot topic ahead of Euro 2016. And let's not forget about West Ham's progressive Aaron Cresswell, who was a sheer nightmare to Liverpool's defense last Saturday.
The right-back's spot is the most obscure. Nathaniel Clyne copied Dejan Lovren in clumsiness during the above mentioned tie against the Hammers. The typical chaos of Liverpool's defense may harm his further development as a first-class full-back. His only alternative for England – Kyle Walker, is not even close to the level that saw Glenn Johnson as the solitary choice for the right flank.
The Midfield and The Attack
There is some sunlight breaking through when we speak of the midfield. Michael Carrick has transformed into a special player, who gladly occupies a tiny zone between the defense and the heartland of the pitch. He collects those dirty footballs and polishes them with accurate long-balls, like some aging Italian maestro.
Ross Barkley with his broad shoulders wades through his markers, bulldozing the field as a Nicky Butt of 2002, but with some neat touches, which a Ginger Prince could've been proud of. From flanks two young impulsive electrons, namely Sterling and Oxlade-Chamberlain are advancing erratically, aiming towards the blonde head of Harry Kane or dribbling past the defenders, while Wayne Rooney – a minute ago the secondary striker, in two minutes the rival's holding midfielder's distractor – captains them to glory.
Yes, things get poetic when dissecting England's decent attacking potential. The young wingers have some experienced alternatives in Ashley Young and Theo Walcott, and the center-forward Daniel Sturridge could still regain his excellent form of 2013/14, if the injury mantra finally leaves him alone. So as Danny Welbeck, who – what a surprise – is England's top scorer in the on-going qualifying round.
Possible Line-up #1. Attack!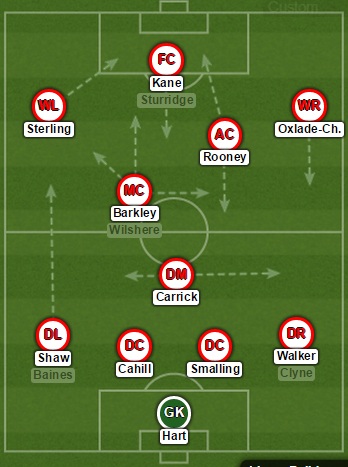 Via – Lineup Builder
This the attacking formation against the knowingly weaker rivals:
Rooney as a free playmaker will have a nice link-up with Harry Kane, who himself has proved to be a strong passer of the ball. Not many strikers of his stature are open to play out of the box. The Spurs' main hope frequently opts for chipped (almost always successful) passes in the manner of Bayern Munich's Polish superstar. Oxlade-Chamberlain – not shy of physical attributes – will try to cover those empty spaces in the right zone of the field appeared due to Wayne Rooney's predominantly attacking role.
Possible Line-up #2. Hold it!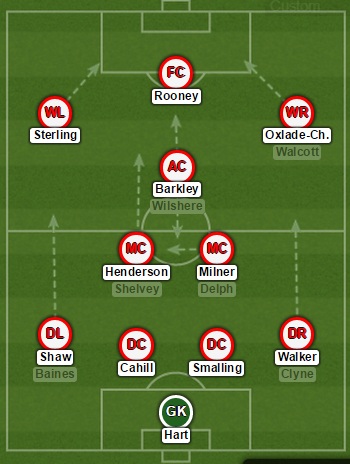 Via – Lineup Builder
Now let's have a look at a stricter, less flexible line-up:
As Carrick is a special player – ideal for a 4-1-4(3)-1(2) formation, we will leave him aside. Here with 4-2-1-3 the Liverpool duo of Jordan Henderson and James Milner comes to the scene. The former has developed into a true box-to-box midfielder alike Gerrard/Lampard, and his long-range efforts might be that cherished secret weapon we all are scared to miss.
Meanwhile, James Milner – happy to be back to the central zone, where he shined during his spell at Aston Villa – aims to become an England's regular at 30. Thankfully, his mellow ego and never-fading pace do not seem to betray him. Fabian Delph, 25, and Jonjo Shelvey, 23, are ready to prove their credibility. Shelvey in particular – a guy you would love to avoid in a gateway at night – shows a massive potential, given the club he plays for, where he is nothing less than an engine of a light-weight Welsh sports car.
And with the likes of Theo Walcott (subject to be healthy) on the right wing and Jack Wilshere (subject to be healthy) as a substitute for Ross Barkley, England 2016 seems a team that is ready for the glory, or at least is capable to shine. And maybe in 10 years every England fan will sigh when reminiscing, "Still, I am proud of the lads."