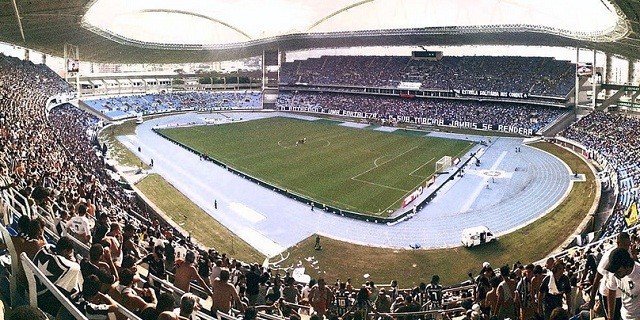 There are few things in football quite like derby day. An entire city becomes abuzz with anticipation for the big match, knowing that bragging rights for the two clubs are on the line. That will be the scene this weekend in São Paulo when Brazil's two biggest rivals, Palmeiras and Corinthians take the field in the Derby Paulista at the Allianz Parque. Things are even more crucial than usual this weekend, with Corinthians 7 points ahead at the top of the Brasileirão table, and Palmeiras fighting to finish in the top four to qualify for the Copa Libertadores.
Corinthians come into the match unbeaten in 14 league matches, with their last league loss coming in the middle of June to Santos. While Corinthians have dominated the league, their one issue this season has been battles with their rivals. Corinthians haven't won any of their last 8 matches in all competitions against their 3 biggest rivals, Palmeiras, São Paulo, and Santos.
Other than that fact, Corinthains have had a nearly flawless Brasileirão campaign. In Brazil though, winning over your rivals is almost everything, and while a Brasileirão title will always be special, one in which you couldn't beat your rivals even once would feel a touch empty to Corinthains fans.
Palmieras, on the other hand, have been especially successful against their rivals, with three wins in three Brasileirão matches against São Paulo, Santos, and Corinthians. While Palmeiras' season goal has been, and will be, qualifying for the Copa Libertadores, finishing their season 6-for-6 against their rivals would be an incredible feat.
Clearly then, much is at stake on Sunday, more than just bragging rights, which is always enough to incite the two fan bases. With the stakes established, let's take a look at the tactical side of things:
Corinthains will be without two major starters, midfielder Elias, who is on duty with the Brazilian national team and striker Luciano, who ruptured his knee in the first leg of the Copa Do Brasil tie with Santos, and will miss an extended amount of time. Against Fluminense on Wednesday, Danilo stepped into the lineup for Timão, while the bulk of the playmaking fell to Jadson, who delivered a glorious cross off of a set piece to Ralf for the second goal of a 2-0 win. The other goal was scored by Marciel, a 20-year old defensive midfielder making his first competitive senior team start. A product of the vaunted Corinthians youth system, the youngster could be asked to play a big role this Sunday.
It will be interesting to see if he can handle the pressure of his first big derby. As for the striking position, Corinthians manager Tite chose to employ a 4-4-2 against Flu on Wednesday, with the youngster Malcom alongside Vagner Love up top. Malcom had a few nice chances in the match, but was unable to convert, while Vagner Love struggled to both hold possession, and finish chances, a recurring theme this season.
If Corinthians had a competent striker (Malcom will be a lovely attacking player someday, he's just not there yet) the Brasileirão title would be theirs already, instead, they have been forced to rely on a number of shots from distance, as well as set pieces (and a handful of questionable penalties) to score. They'll need a little of each to come out victorious on Sunday.
Despite a 1-0 loss to Goiás midweek, Palmeiras haven't struggled to score this season. A combination of Rafael Marques, Dudu, and recently, Gabriel Jesus, have provided the goalscoring firepower to put Verdão as the second highest scoring team in the Brasileirão. The issue this campaign has been the defense.
Victor Ramos has been steady, though not spectacular, as one of the two centre backs. Vitor Hugo has filled into the other spot, but has had some very shaky moments. The full backs, especially Lucas and Egídio, have been terrific going forward, but not necessarily strong in defense.
The youngster João Pedro, who started for Lucas on Wednesday, had strong moments going forward, but was made the fool on Goiás' lone goal of the evening thanks to a great individual move from Bruno Henrique. The keys for Verdão Sunday will be to have a strong defensive performance, something they did spectacularly in their 2-0 win over Corinthains earlier this season. Palmeiras have the playmaking necessary to grab a goal or two this weekend, the issue will be defending a lead.
The final thing to watch this weekend will be the officiating. Palmeiras had a goal wrongly disallowed against Goiás Wednesday, while Corinthians benefitted from an excessively poor offside decision against Fluminense.
Truthfully, Brazilian officiating has been below average at best this season, and in a match that will surely be intense, a bad official could ruin the match for either side. Expect to see a number of yellow cards given out (as is usual in Brazilian football) in an attempt to control the game, but don't be surprised if a poor decision plays a big role in this one.
TV Information: In the United States, the match will be shown LIVE Sunday afternoon at 2:55 ET/11:55 AM PT on GOLTV
Prediction: Corinthians should win the league. However, as mentioned, they've struggled against their rivals, and that will continue this weekend. Gabriel Jesus will show why he's Brazil's next star, and while Palmeiras' defense will give up a goal off a set piece, Palmeiras will win 3-1.