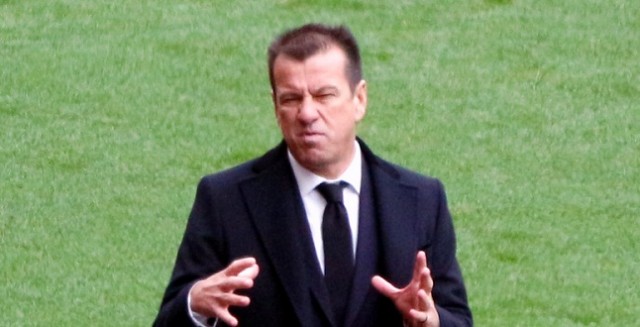 With World Cup Qualifying beginning next month, the Brazilian National Team makes its way to the United States for a pair of friendlies against Costa Rica (Saturday, 4:00 ET at the Red Bull Arena in Harrison, NJ) and the United States (Tuesday, 8:00 ET at Gillette Stadium in Foxboro, MA). Manager Dunga has selected a largely veteran squad while also featuring a few youngsters looking to make an impression and earn a spot on the squad for next month's matches against Chile and Venezuela. With that said, here's three things to watch for in the upcoming matches for the seleção.
What Does Dunga Do About a Striker?
Anyone who watched Fluminense striker Fred struggle at last summer's World Cup knows that Brazil lacks a top drawer striking option. Anyone who has seen Palmeiras' Gabriel Jesus and Santos' Gabriel Barbosa play in the Brasileirão knows Brazil has quality youth strikers a few years away from making an impact. The question is what to do in the meantime. This summer's Copa America saw both Roberto Firmino and Diego Tardelli start as strikers, with neither particularly effective.
Firmino was called up for the upcoming friendlies, while Tardelli was not. Also added to the mix were Hulk and Lucas Moura, but both of those players are more talented wingers than target strikers. However, Hulk has been the lone striker in training, and seems to be willing to take a stab at the position so expect him to start there against Costa Rica on Saturday. With a good performance in the next two matches, any of Brazil's attacking players could find themselves as the starting striker to open World Cup Qualifying.
Who is Neymar's Replacement?
Neymar is set to miss the first two matches of World Cup Qualifying thanks to a suspension picked up at Copa America, meaning Dunga must attempt to find a replacement in these friendlies. Neymar almost certainly won't start against Costa Rica, letting Dunga see what his squad looks like without the Barcelona man. Douglas Costa, the former Shakhtar man who just debuted for Bayern Munich, looks to be the man to at least take Neymar's position on the field.
Costa won't be able to replicate all that Neymar does, so expect to see all of the midfield players asked to pick up some of the playmaking slack, especially Santos man Lucas Lima who will be making his national team debut. Lucas Lima is the best playmaker in the Brasileirão, and a national team call up was well-deserved and hard-earned. He will be the player asked to make the plays in the upcoming friendlies, and undoubtedly has the tools to make them. Whether his success carries over to the World Cup qualifiers remains to be seen, but Lucas Lima will certainly get his chance to be a vital playmaker for Brazil.
How Do the Youngsters Fit In?
Six players on this Brazil roster have yet to be capped on the national team level. The biggest names in that group are the aforementioned Lucas Lima, as well as Barcelona's Rafinha, Arsenal's Gabriel Paulista, and Internacional's Alisson. Rafinha won't start against Costa Rica, but it wouldn't be surprising to see him come off the bench in one, or both friendlies. Gabriel Paulista is part of the future at centre back along with the 21-year old Marquinhos, who should start alongside the veteran David Luiz against Costa Rica. Alisson is Brazil's best young goalkeeper, and while Botafogo's Jefferson is the starter, don't be surprised if Alisson gets a few minutes in goal against either Costa Rica or the USA.
It is critical for Dunga to start developing young talent on the national team level. Russia 2018 is still three years off, but many of the veterans on this squad won't be on the final roster three years from now. Dunga must use opportunities like these friendlies to give chances to players who could be vital to that team, while also keeping one eye on ensuring qualification in the difficult CONMEBOL region.  Brazil seems to have a good balance on this roster of youth and experience, something that will hopefully continue into World Cup Qualification next month. While in the end the results of these friendlies don't matter, anything but two wins would certainly be disappointing for Brazil. With that said, at the end of the day, developing young talent and preparing for what will be a grueling World Cup qualifying cycle are the main goals of this week in the States.