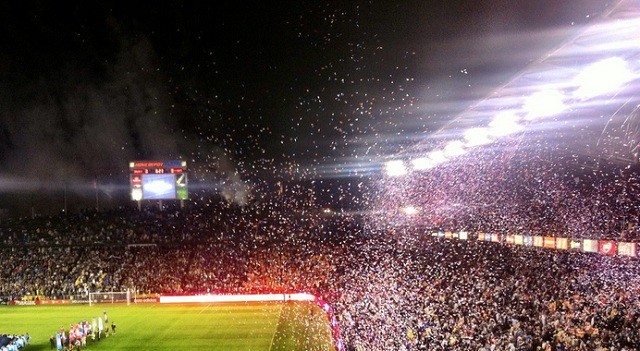 With eight weeks remaining in the Major League Soccer season, the postseason picture looks less clear than ever. Theoretically, it is not too far beyond the realm of imagination that each team in the league could make a run at the postseason given the remaining time in the season.
This season is different from those past, however, as the league implemented a rule change that now enables six teams per conference to land a spot in the playoffs as opposed to five. With this rule, the 3rd and 6th seeds will play one another while the 4th and 5th seeds will compete in a knockout round. The winners will then go on to play the top two seeds in each conference in a two-game aggregate series.
With so many teams competitive three-quarters of the way through the year, who can be expected to stay above that red line?
Eastern Conference
The Eastern Conference is the least clear of the two conferences, as one win for the Philadelphia Union (the current last place team) would actually put them above the red line. The biggest gap is between the fifth place New England Revolution (37 points), and sixth place Orlando City SC (29 points).
The Montreal Impact and New York City FC are both on the outside looking in with 28 points, while the Chicago Fire and Philadelphia have 27 points. This essentially means that unless there are any unforeseen dropoffs at the top of the table, there will be five teams gunning for the final playoff spot.
So who's season will be over on October 25th and who will be making a run for the MLS Cup?
As of now, the Impact have the most control over their fate, having played only 23 games so far. The other three squads have played 26 or more games, leaving the Impact with at least three or more games in hand. Even one win in that stretch of games could pay dividends in the big picture. Not only that, but the Impact possess the best goal differential of the five teams and have conceded the fewest goals of any bubble team.
In terms of talent, a case could be made that New York City FC is the most well off. They have the fourth-leading goal scorer in the league in David Villa and are the highest scoring squad of the bubble teams. On top of this, they have the summer additions of Frank Lampard and Andrea Pirlo that may help with a postseason push despite speculation of lazy play.
WHO'S IN
DC United, Columbus Crew, New York Red Bulls, Toronto FC, New England Revolution, Montreal Impact
WHO'S OUT
New York City FC, Orlando City SC, Chicago Fire, Philadelphia Union
WESTERN CONFERENCE
The Western Conference has a much more clear landscape compared to the East, but there is still a lot of shifting that can occur in the coming weeks.
Though change can happen, it appears that both Real Salt Lake (32 points) and the Colorado Rapids (33 points) have some serious work to do as they are looking down and out as of now. Colorado appears to be in better shape though having won their last three matches, but their streakiness can be cause for both concern and reassurance. Their last eleven games consisted of two consecutive losses, three consecutive wins, three losses and then their current three game win streak. If they get hot at the right time it could be beneficial, but they can't afford to go cold at this point which is a potential reality given recent history. Real Salt Lake on the other hand have lost four of their last five.
Seattle is currently the last team in with 38 points, followed by contenders San Jose (38) and Houston (35). Above Seattle are the Portland Timbers (40), Sporting Kansas City (40) and FC Dallas (41).
The Sounders are coming off a horrid summer having lost eight of nine matches from June 20 to August 9, but have since been putting the pieces back together and took a major step forward Sunday by defeating their hated rival in Portland. They also have the benefit of Stefan Frei in net, who has been standing on his head for Seattle and has been a constant in the midst of a tumultuous season.
San Jose are winners of four straight and have great veteran depth in Chris Wondolowski and Shea Salinas. By and large San Jose has not been the most complete team in year's past, but as of lately all components have been clicking, and if they stay hot they could find themselves making a push to play in November.
Western Conference newcomer Houston is on the fringe, but could ultimately make a run at the postseason. They are potent offensively, having scored the fifth most goals in the Western Conference, and they will need that potency in order to be playing meaningful games late this season.
WHO'S IN
LA Galaxy, Vancouver Whitecaps, Portland Timbers, Sporting Kansas City, FC Dallas, San Jose
WHO'S OUT 
Seattle Sounders, Houston Dynamo, Colorado Rapids, Real Salt Lake
The landscape could most certainly change over the next eight weeks, but now three quarters of the way into the year each squad's strengths and weaknesses have come to light. Some teams are locks for the postseason already, others are right on the bubble, but whatever the case may be, there is a lot to look forward to this fall in Major League Soccer.