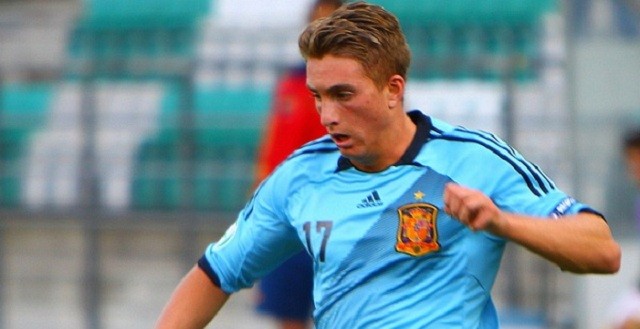 Now that the transfer window has closed, it's a good time to take a look at all the individual transfers and the team as a whole. For starters, let's look at the spending stats. With Aaron Lennon's fee speculated to be around the £4 million mark, Everton spent roughly £20 million in this transfer window.
This figure puts Everton in the bottom five in the league in terms of amount spent. The only transfer money that came into the club during this time was the £1 million the club received from Burnley for Chris Long. With the big picture in hand, let's dive deeper into the individual transfers.
Gerard Deulofeu – £4.3 Million
Deulofeu rejoined Everton on a permanent move at the end of June. The Spaniard was previously on loan at Everton in 2013. During this time he scored four times and made 29 appearances. Although only playing minor minutes in the Premier League so far this season, he played a major rule in Everton's cup victory against Barnsley setting up three goals for the team.
Outlook: The 21-year-old had his share of struggles in La Liga last season, only managing to start 15 games for Sevilla in all competitions. That said, his struggles last season probably don't warrant alarm considering his youth. I think we saw the offensive potential of the player in the Barnsley game and I think he is only going to improve throughout this season and beyond. I'd look for Deulofeu to solidify himself on the right wing in the coming months.
Grade: B: Although still somewhat unproven, Deulofeu is an exciting young player with good footwork and great passing abilities.
Tom Cleverley – Free
Cleverley is another player that joined the side at the beginning of the summer. He joined following the expiration of his contract with Manchester United after serving last term on loan at Aston Villa. Cleverley was never a regular feature during his time at United, but he did manage 31 Premier League starts for Aston Villa last season. So far this season, he has started all four league games for Everton.
Outlook: The 26-year-old is a good, but not great type of player. An advantage that he has is that he is comfortable playing in all areas of the midfield, although he sometimes plays too narrow when fielded on the wing. Cleverley strengthens come in the form of keeping possession and making good decisions with the ball. I'm not sure Cleverley is good enough to be a nailed down starter, but he will try and reassert himself on the lineup once he returns from injury.
Grade: B+: Being able to add a player like Cleverley on a free transfer is good business. He may lack the wow factor, but his strong fundamental play will be a good asset for Martinez.
Mason Holgate – £1 Million
Mason Holgate joined Everton at the beginning of August from Barnsley. The 18-year-old center back had 20 league appearances and one goal last season.
Outlook: Holgate is definitely a player for the future and will unlikely feature much this season.
Grade: A: This kid has a lot of potential and locking him into a contract until 2020 is great business for the club.
Leandro Rodriguez – £500K
One of the newer signing, the 22-year-old Uruguayan joined Everton from River Plate. At River Plate since 2012, Rodriquez scored 19 goals in 71 appearances.
Outlook: Coming from a league that is vastly inferior to the Premier League and with a goal scoring record that isn't entirely convincing, I have some qualms about this move. I would guess that the Uruguayan is only going to be used as a reserve striker to fill in in case of injury or rest.
Grade: C: He's still young and can certainly improve, but I'm not overly optimistic about Rodriguez.
Aaron Lennon – £4.2 Million
After a long summer of will they, won't they, Everton finally secured their man in the nick of time. Lennon rejoins the team after scoring twice and putting in 12 strong appearances for Everton in the latter half of last season. In his career, Lennon has made 292 Premier League appearances scoring 28 times.
Outlook: Lennon is a good player with tons of experience under his belt. The England man will be a great complement for the inexperience of Deulofeu. Lennon is fundamentally strong on both sides of the pitch and has the speed to outrun most players in the league.
Grade: A-. Although this is a move that most of us saw coming all summer, it's still exciting to add another experienced midfielder to the mix.
Ramiro Funes Mori – £9.5 Million
Everton's biggest purchase of the summer goes by the name Funes Mori. Heralded as one of the most important players at River Plate by fans, the defender comes to England with high expectations. Since 2011 he featured 72 times for Argentine club scoring six goals.
Outlook: Funes Mori is impressively good at scoring goals at important times. He is also extremely strong in the air and uses this ability to his advantage on both sides of the field. I have some hesitations about his speed, but he may easily prove my hesitations misplaced. Making the leap to the Premier League could take time, but Funes Mori has the potential to be the eventual replacement for Phil Jagielka, who turned 33 this month.
Grade: B+. The Argentine is a player with a lot of potential and who has proven himself a capable player. I think he's a good addition to the team at a position that Everton were dangerously undermanned in.
Throughout the window, Everton added good depth to their team. They also managed to not only hold on to John Stones, but they also convinced the likes of Mirallas and McCarthy to sign new long term contracts. The downside is that the starting lineup will be relatively unchanged from the last two seasons. Don't get me wrong, it's a good team, but I'm a little disappointed that the club didn't manage/try to make any big name signings.
Everton Transfer Grade: B