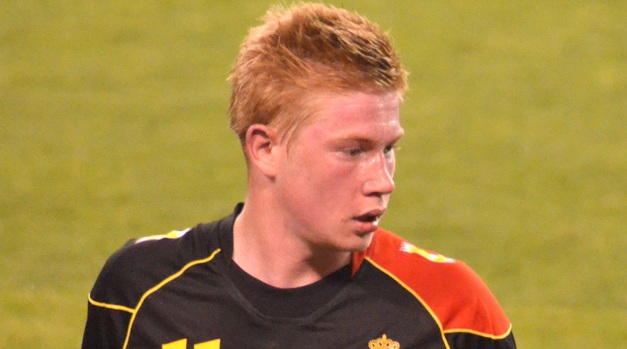 Kevin De Bruyne has completed a £55m transfer move from Wolfsburg to Manchester City.
City's signing of the 24-year-old attacking midfielder is the 2nd highest ever transfer fee ever in the Premier League, just £4.7m behind the fee paid for Manchester United flop Angel Dí Maria.
The signing is set to be a huge blow to Wolfsburg who finished 2nd in the Bundesliga and as well as winning the DFB-Pokal Cup & DFL-Supercup last year.
De Bruyne's huge price tag comes from his season as Bundesliga's Player of the Year with 10 goals and a whopping 20 assists, creating a deadly partnership with forward Bas Dost who told Goal.com, "Kevin is immensely important…He has given us countless assists and he's a real team player. If Kevin should go this summer, we will automatically be weaker as a team. He is our most important player."
Man City have been anxious to sign the Belgian international, keeping sure to track him throughout the summer transfer window, to help strengthen their side to compete for the title against holders Chelsea, of which they snagged a convincing 3-0 win over 2 weeks earlier.
De Bruyne becomes the fourth big name transfer for City this transfer window with their signing of Raheem Sterling, Nicolas Otamendi and Fabian Delph. Now the question remains: Where's he going to play in the squad?
Several sources such as The BBC Sport suggest he will provide competition to Jesus Navas and Samir Nasri. However, the quality of such players might send him into a defensive midfielder role to attack & win the ball back and take a few chances as well. After all, he's no stranger to the Premier League.
His spell at Chelsea in 2012 made him noticeable but not memorable. Injury plagued part of his season along with lots of time on the bench ended his Chelsea career with 1 assist and no goals in 6 games for the Blues. Wolfsburg bought him for £18m in 2013 where his form has only gotten better over the last 2 years within the German side.
De Bruyne told Man City that he's been "completely professional" being at the center of a large transfer chase.
City manager Manuel Pelligrini has been up & down toward the transfer saga, at one point claiming he "knows nothing about the transfer rumors" before giving plaudits for the new signing. De Bruyne's debut might come sooner than later as Manchester City face a confident Crystal Palace at home on September 12th.
https://www.youtube.com/watch?v=dWbuB1U1VMc