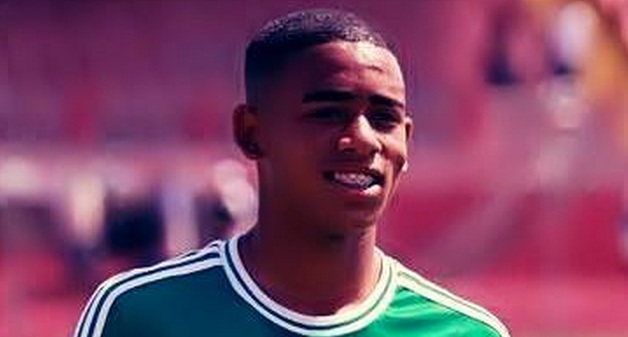 There's something special about Wednesday night football in Brazil. Whether it's the bright lights, or a primetime stage, Wednesday night fixtures always seem to be exciting. Wednesday night's action in the Round of 16 in the Copa do Brasil was no different.
On a night of crucial second legs, defending champions Atletico Mineiro were eliminated by Figueirense, São Paulo rallied past lowly Ceará, perhaps saving the job of Colombian manager Juan Carlos Osorio, and Brasileirão leaders Corinthians were eliminated thanks to a fantastic performance from Lucas Lima and Santos. However, on a night of amazing football, it was Palmeiras striker Gabriel Jesus who stole the show in a 3-2 win over Cruzeiro.
Seen by some as the next great Brazilian striker, the eighteen year old Gabriel Jesus played extensively for Brazil's team that finished as runner-ups at the U-20 World Cup in New Zealand, but had struggled to find playing time in a crowded lineup of attackers for Verdão.
Last night against Cruzeiro was just the 2nd start of the season for Gabriel Jesus, however after his scintillating performance in Belo Horizonte, it will be difficult for Palmeiras manager Marcelo Oliveira to keep him out of the lineup much longer. Gabriel Jesus finished the match with 2 of Palmeiras' 3 goals, and a terrific assist to set up Lucas Barrios for the final goal.
The Assist
(all vines via @goleada_info)
Gabriel Jesus started his night off nicely enough with this eighth minute assist. Dudu sets up Gabriel Jesus for a gorgeous little back heel which gives Barrios a perfect shooting angle to make it 1-0. This nice little play showcases his vision, which allows him to perfectly set up Barrios, with the ball being placed right at the Paraguayan's feet for a well-driven strike.
The Goals
Gabriel Jesus' first goal is the combination of a perfect cross from Egídio, and the attacking play of the Palmeiras striker.
Gabriel Jesus recognizes the opportunity to make a near post run and dives directly towards the target, putting himself perfectly in line to hammer home the cross with a flying kick. He does well to keep his strike down, rifling the shot past Fábio for the second Palmeiras goal.
Gabriel Jesus topped it all off with this beautiful bit of individual play. The youngster shows poise to avoid the sliding tackle of Paulo André, using a combination of strength and balance to stay on his feet, which then puts him one-on-one with Fábio, who finds himself absolutely embarassed.
Gabriel Jesus dives into the left, before expertly crossing the ball over to his right, then quickly adjusting back to the left, leaving Fábio in the grass, and finally slotting the ball into the net at the far post. The final goal was clearly the most impressive on the evening, with Gabriel Jesus looking as though he has the ball on a string attached to his foot. It's an impressive piece of individual skill against one of the better goalkeepers in Brasil.
The Future
There's no doubt that a performance like this will open up more opportunities in the match day lineup for Gabriel Jesus. He absolutely has the talent to become the next great Brazilian striker, and once he begins to start more matches, he'll quickly mature. Soon enough, European clubs will come calling, but it would be wise for the youngster to spend a few more years with Palmeiras honing his craft, before making a move to a bigger European club.
Don't be shocked to see Gabriel Jesus on the Brazilian Olympic roster next summer, with a move to the full national team certainly possible within the next few years. Brazil may be struggling for strikers on the national team level right now, but Gabriel Jesus will soon enough fix that problem.