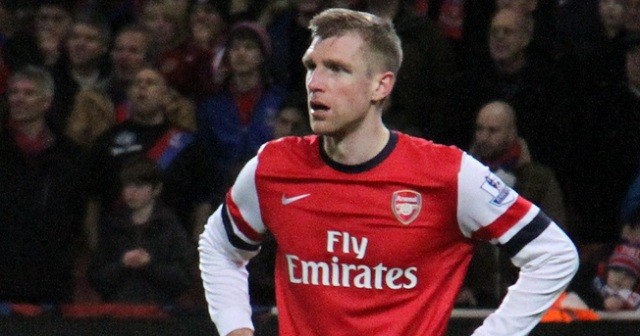 Arsenal face Newcastle at St. James Park early Saturday morning. This matchup ended 2-1 the last time the two teams met and Arsenal had David Ospina to thank for a number of vital saves in the second half.
Arsenal will be looking to get out of their scoring rut and break free against Newcastle. Matches between Arsenal and Newcastle are always tight, but usually produce a number of goals. The same can be said about matches between Arsenal and Liverpool, but look what happened on Monday.
Arsene Wenger won't make many changes to the squad. Per Mertesacker is likely to miss his second consecutive match with an illness, while Laurent Koscielny could return to the squad depending on the results of tests planned for Friday.
Danny Welbeck and Jack Wilshere are both still injured, but are close to returns. Welbeck could be available after the squad returns from the international break, while Wilshere may be able to participate the following week.
Arsenal will look to record their second win of the season and their second win away from home. A good performance and a win at St. James Park will do the Gunners' confidence some good heading into the international break.
Here is Arsenal's most likely lineup.
Goalkeeper – Cech
Peter Cech put in a stellar performance against Liverpool on Monday and showed why his former Chelsea teammates were so disappointed to see him leave. The Czech international made two or three world-class saves in the first half alone and kept Arsenal in the game heading into the second half.
Right Back – Bellerin
Hector Bellerin looked to struggle a bit without the experience of Mertesacker next to him. His performance should improve against Newcastle. His performance against Liverpool is a part of the learning curve for the young Spaniard.
If Calum Chambers starts a second consecutive match at center back, we may see Mathieu Debuchy start at right back to provide some guidance and experience next to the young Englishman.
Center Backs – Koscielny & Gabriel
Wenger sounded optimistic when discussing Koscielny's chances of making the squad against Newcastle. Arsenal always performs better when the French international is playing. His partner will be Gabriel, who struggled a bit in the first half against Liverpool, but grew as the match went on. The Brazilian showed signs that he may become an excellent center back soon.
Left Back – Montreal
Nacho Monreal didn't have his best game against Liverpool, but provided no reason to believe that his place in the team is in danger.
Defensive Mid – Coquelin
Francis Coquelin has been unfairly singled out to start the season. He had a poor performance against Aston Villa, but made significant improvements against Crystal Palace the following week. He was Arsenal's second best player on the pitch against Liverpool, and made some vital last minute tackles, interceptions and blocks, likely preventing at least one goal. His stats to start the year are superior to players in similar positions on rival teams.
Wenger rightly came to his defense on Thursday and Coquelin's inclusion in the squad is important to Arsenal's balance.
Central Mid – Cazorla
Santi Cazorla didn't seem sharp against Liverpool. He was losing the ball in uncharacteristic fashion and in dangerous positions. He improved a bit in the second half but couldn't influence the game the way he may have liked to. His shooting boots have completely gone, which is concerning to see in a player of his quality.
Attacking Mid – Özil
Mesut Özil had a solid game against Liverpool and will look to build up more form against Newcastle. He was always looking to get on the ball and bring his teammates into play. If his teammates could convert at least half of the chances that he creates for them, his assist numbers would be astronomical.
Wide Right – Ramsey
Wenger's decision to playing Aaron Ramsey on the right has been criticized, however, Ramsey has looked very dangerous from this position. He played well here against Crystal Palace and was constantly finding himself in dangerous positions in between the lines. He did the same against Liverpool and scored a goal that was incorrectly ruled offside.
Ramsey has started the season in fine form. Although his long-term future is not wide right, he is playing very well there for now.
Wide Left – Alexis
Alexis clearly is not fit yet or sharp yet. His lack of a pre-season is showing and Arsenal may be better off playing Theo Walcott or Alex Oxlade-Chamberlain down this flank instead.
The Chilean's work rate is infectious and he is a joy to watch. However, his finishing and decision making has been poor to start the year. Hopefully his national team takes good care of him and allows him to regain sharpness without over playing him.
Striker – Giroud
Olivier Giroud had trouble stamping his authority on the match against Liverpool. He seemed to be avoiding the physical aspect of the game, which is concerning considering he has the figure and strength to physically impose himself on most center backs in the Premier League.
Arsenal may be better off starting matches with Walcott playing striker and Giroud starting on the bench. Walcott has the ability to stretch teams due to his pace and movement. This is especially useful earlier in matches when the opposition is trying to assert themselves on matches.
Later in matches, when Walcott has generally been coming on the pitch, Arsenal's oppositions are sitting back and absorbing pressure. Giroud is more suited to playing against teams who are absorbing pressure and the Frenchman could be an effective "super-sub" in this situation.
(4-5-1)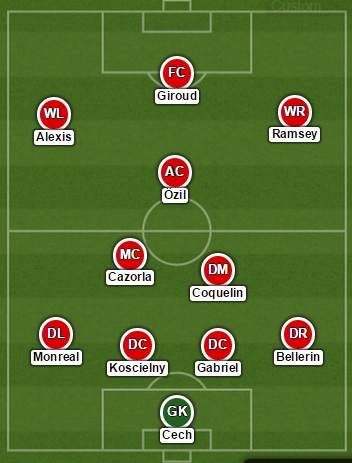 Via – Lineup Builder