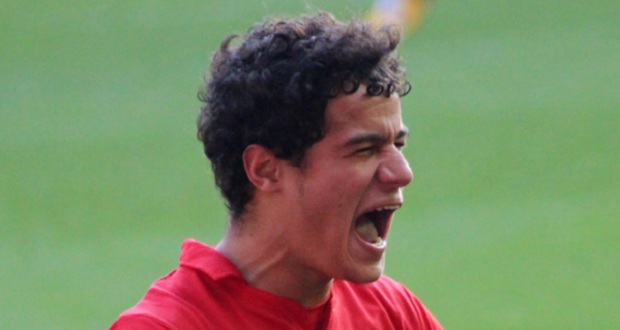 Unlike last season, Brendan Rodgers and Liverpool look so much more confident this year. While not everything has clicked through three matches, the team has yet to lose a game or concede a goal.
The club's play has been positive and gone is relying on only a few players to win the match. Most, if not all of the new signings have proven that they are worth the investment. The Reds will be looking for their third win in four matches as they host a West Ham side that is coming off two losses in a row.
Goalkeeper
Simon Mignolet had a brilliant performance against Arsenal and he looks so much more confident now than he did at any point last season. The Belgian has yet to concede a goal this year and hopefully that will continue against Mauro Zarate and the rest of the West Ham attack.
Right-Back
After going through three players in the role last year, Nathaniel Clyne has really solidified the position this season. Clyne has provided some much needed balance in the role, Glen Johnson was too offensively-minded while Javi Manquillo didn't get forward enough. Clyne has been able to find the perfect mix of defending extremely well while also providing some offensive help.
Center-Backs
The duo of Martin Skrtel and Dejan Lovren have been fantastic so far this year. Their performance in the last match against Arsenal was outstanding, even though they didn't do much in the first half, they kept their concentration and were able to absorb the pressure the Arsenal attack put on the pair. With their confidence at such a high level, they should be able to repel a West Ham attack that has relied more on luck than skill to score their goals.
Left-Back
Through three games, Joe Gomez has looked like a veteran player rather than one who is going through his first season in the Premier League. While he is not the most impactful player going forward, Gomez has been a rock at his position, nothing seems to faze him.
Midfield
Jordan Henderson's health is still in question for this weekend so it looks like the trio of James Milner, Lucas Leiva and Emre Can will make yet another start together. While it looks like Lucas could leave the club at any point before the summer ends, he is still a Liverpool player and Rodgers should use him accordingly. Milner and Can are two great box-to-box players and they should dominate the middle of the pitch on Saturday with their energy and raw talent.
Right Wing
Roberto Firmino made his first Premier League start against Arsenal and his performance was good enough to merit another start this weekend. Firmino was electric against the Gunners, he really showed how he could change the game with his skill even though he did not get a goal or assist.
Forward
Christian Benteke's should have gotten on the scoresheet if it was not for his finishing deserting him at an inopportune time. His physicality has been a boost to a Liverpool squad that was built more on speed and creativity rather than brute force. Look for him to get a goal or two against a Hammers team whose defense was in shambles against Bournemouth.
Left Wing
Philippe Coutinho was once again a fantastic player on Monday, he definitely would have scored if not for some world-class keeping by Petr Cech. Coutinho has continued to show why he was chosen as Liverpool's player of the year last season, there has been no drop off in his work rate. With capable goal scorers beside him, the pressure to lift the team on his shoulders is definitely less this year.
(4-3-3)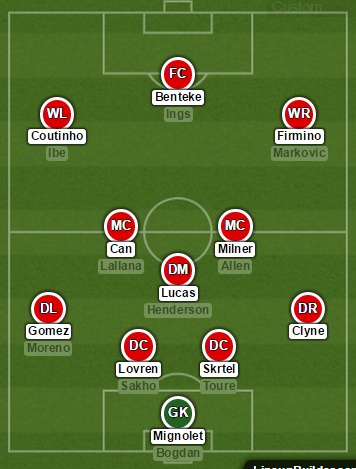 Via – Lineup Builder