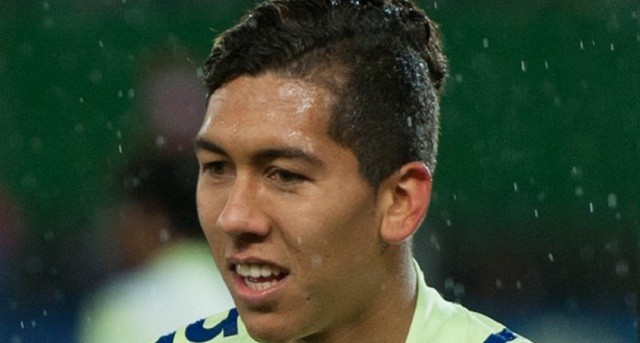 The season for Brendan Rodgers and Liverpool has gotten off a great start. They are currently undefeated with two 1-0 wins against Stoke City and Bournemouth and the team will look to keep that going with another victory over Arsene Wenger and Arsenal.
Matches against other clubs looking to secure a Champions League place are the most important for the Reds, those teams are the benchmark, if Liverpool beats them, it would be a fantastic sign of progress.
Goalkeeper
Simon MIgnolet has been able to keep a clean sheet through the first two matches and there is some hope that he can get another one on Monday. He will need to be at his best, the Arsenal lineup boasts some world-class attacking talent, if the Belgian loses even a second of concentration, he will see the ball fly into the net more than a few times.
Right-Back
New signing Nathaniel Clyne will face his biggest challenge yet, Alexis Sanchez will likely be the one lining up across from him. Sanchez is impossible to completely take out of a match but Clyne has the skills to mitigate the Chilean attacker's influence.
Center-Backs
The pair of Martin Skrtel and Dejan Lovren has been solid so far this season. Lovren in particular has been impressive, gone is the defensive liability from last year, instead, he has been one of the best, if not the best Liverpool player in the first two games.
He has been extremely confident, he hasn't made any terrible errors yet and he has firmly placed himself ahead of Mamadou Sakho as Skrtel's partner, at least for now.
Left-Back
The young Joe Gomez has been a revelation so far, he has been able to keep his cool against players with much more experience than him. Even if there will probably be a point where Gomez will look overmatched, Rodgers should ride his form as long as possible. If Rodgers wants more speed on the field, Alberto Moreno could be the player chosen.
Midfield
With the health of Jordan Henderson in question, Rodgers will probably turn to James Milner, Emre Can and Philippe Coutinho to control the match. Milner has been one of the best players on the squad so far this year and having Can behind him will allow even more freedom to work his magic.
Coutinho's best position is clearly higher up the pitch but it looks like Rodgers is dead set on making the Brazilian wizard work in the middle of the pitch for now.
Right Wing
Jordon Ibe has not been the player who dominated during the preseason but that's to be expected, the competition has improved significantly. If he has a good performance against Arsenal, it could go a long way to securing his place on the squad for the long term.
Forward
Christian Benteke got his Liverpool career off to a great start with a goal against Bournemouth. Even though the goal should have been ruled offside, because of Coutinho's attempt to score, Benteke still showed his goal poaching ability with a confident finish. He read the defense very well and, unlike Coutinho, made sure that he remained onside until the last possible second.
Left Wing
Putting Roberto Firmino in the lineup could be the jolt that the attack needs. The Brazilian has only been brought on as a substitute in the past two matches so he has not had enough time to show off his skills on the field.
The fact that the many if not all of Arsenal defense haven't faced Firmino before just gives Rodgers an even bigger reason to play the new acquisition.
(4-3-3)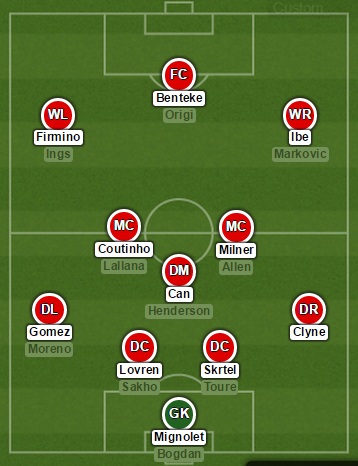 Via – Lineup Builder