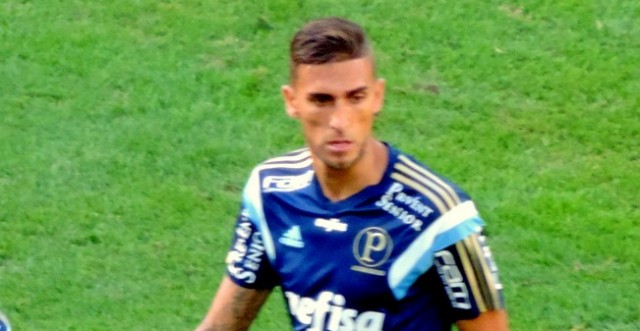 With an average attendance of over 17,000 fans per match, the 2015 edition of the Brasileiro, Brasil's top league, has been one of the most popular in recent memory.
With a number of the big teams hovering around the top of the table, as well as a few upstarts, the second half is poised to be extremely exciting. Before we look ahead to the second half however, let's take a look back to the first half of the season and hand out some awards:
Quick Glance at the table:
Corinthians top the table with 40 points, with Atletico Mineiro and Grêmio chasing at 36 points each.  Fluminense round out the top four with 33 points. Palmeiras, São Paulo, Sport, and Atletico Paranaense all have over 30 points and sit just behind the top four.
Defending champions Cruzeiro are in 14th with 22 points, just ahead of Goiás, Joinville, Coritiba, and Vasco da Gama, who make up the final four fighting it out to avoid relegation.
Most Surprising Team: Sport Recife 
Sport are the only team from the north of Brasil in this year's competition, and have held their own quite well so far. Sport have only lost two matches this season both on the road, a difficult 2-1 loss to Mineiro, and a controversial 4-3 loss last week to leaders Corinthians in what was one of the most exciting matches of the season so far.
Diego Souza and André have led the Lions so far this season with six goals each. Sport are unbeaten at home, but have yet to win away from the comforts of the north of Brasil, drawing 7 times. If Sport are to turn their first half success into a possible Copa Libertadores berth, they'll have to keep up their home form while also managing to win a few matches on the road.
Honorable Mention: Atlético Paranaense, Chapecoense, Ponte Preta
Most Disappointing Team: Cruzeiro
Cruzeiro, along with other big names Flamengo and Internacional are hovering in the bottom half of the table and are all worth candidates for most disappointing team, but it is the two time defending champion Cruzeiro who take the title of most disappointing team of the first half. Cruzeiro lost 3 of their first four league matches while juggling Copa Libertadores play.
That opening stretch, combined with a quarterfinal loss to River Plate in the Copa Libertadores cost manager Marcelo Oliveira his job. He was replaced by former Flamengo manager Vanderlei Luxembergo. Cruzeiro bounced back, winning their first 3 matches after the switch, but since then have been mired in inconsistent football.
It was always going to be a tough ask for Cruzeiro to win another title, especially after losing key players such as Marcelo Moreno, Lucas Silva and Ricardo Goulart at the end of last season. Cruzeiro are still alive in the prestigious Copa do Brasil, and a long run in that competition may be the only way to salvage their season.
Honorable Mention: Flamengo, Internacional
Team of the First Half:
GK: Fernando Prass, Palmeiras
D: Douglas Santos, Atlético Mineiro
D: Frickson Erazo, Grêmio
D: Gil, Corinthians
D: Wellington Silva, Fluminense
MID: Jadson, Corinthians
MID: Dudu, Palmeiras
MID: Lucas Lima, Santos
MID: Giuliano, Grêmio
FWD: Rafael Marques, Palmeiras
FWD: Diego Souza, Sport
There've been a number of strong keepers this season, but Fernando Prass has seemingly made the highest number of tough saves to keep his team in matches. Erazo and Gil have been the strongmen in the two best defenses in the league, while Wellington Silva has played a role going forward for Fluminense.
Douglas Santos has played well enough to earn his first national team call-up, as has Lucas Lima in the midfield. Dudu has had a maddeningly inconsistent career, but has been more up than down this season, while both Jadson and Giuliano have been impressive playmakers. Rafael Marques has gotten it done both scoring and making plays, while Diego Souza has been the catalyst for a resurgent Sport side.
Toughest Omissions: Ricardo Oliveira of Santos and São Paulo's Alexandre Pato both have high goal totals, but neither has been incredibly impressive in the other facets of their game. Elias for Corinthians and Marcos Guilherme of Paranaense have both impressed me, but have missed a few too many matches to make this team. In goal, Mineiro's Victor and Diego Cavalieri of Fluminense both have had strong seasons and I would have no argument picking either over Prass.