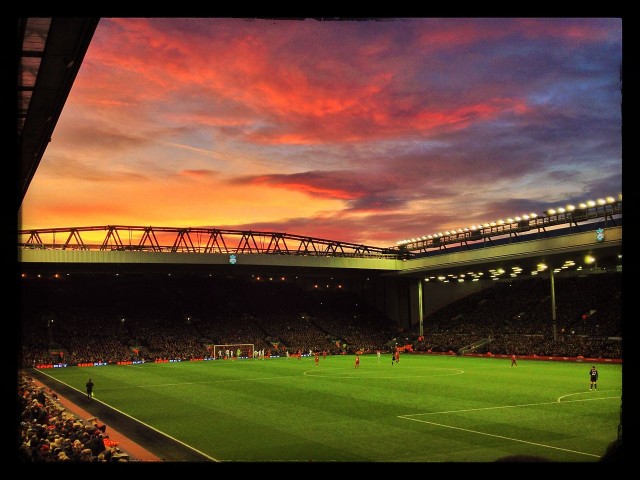 Brendan Rodgers and Liverpool got the season off to a decent start with a 1-0 win over Stoke City. They will look to build on that success with another victory over one of the Premier League's new teams in AFC Bournemouth.
Goalkeeper
Simon Mignolet was untroubled against Stoke and it should be much of the same in the second match of the season.
Right-Back
Nathaniel Clyne continued his recent trend of being a solid player at the position and he will continue to start unless he gets injured. He was not able to be as influential while attacking as he was when defending but that should change if the team dominates possession in this match.
Center-Back
The pairing of Martin Skrtel and Dejan Lovren looked extremely comfortable in the first game of the season and they gave no reason for Rodgers to make any changes. Lovren was especially solid, given that he was often criticized last season. They should get another clean sheet as long as they stay focused on keeping Bournemouth out of the box.
Left-Back
Joe Gomez was solid but unspectacular in his Premier League debut and it is looking increasingly likely that he will take over the position for the time being. The 18-year-old looks like he will be a fantastic player for years to come, which is bad news for Alberto Moreno.
Midfield
The Reds took over the match right after Emre Can was introduced so he should start alongside Jordan Henderson and James Milner on Monday. The three should be able to control the game right from the start and the team's pressing will be much better with the German in the starting lineup.
Right Wing
Jordon Ibe was not able to capitalize on his great pre-season run last week and that could lead to Roberto Firmino getting his first Premier League start. This would be a great time to integrate the Brazilian into the lineup before the big match against Arsenal and he will definitely get a couple of opportunities to get a goal.
Forward
Christian Benteke could not really get into the last match but he should be better on Monday. The rest of the team is still figuring out how to play with such a physical presence upfront and it may take a few more games before he truly becomes comfortable in his new club.
Left Wing
Philippe Coutinho rescued the Reds with a magnificent strike late in the match against Stoke. Coutinho played much better after he was moved further up the pitch which should encourage Rodgers to play him out wide. Since he has more space to run and pass, he has freedom to influence the match when playing out on the wing.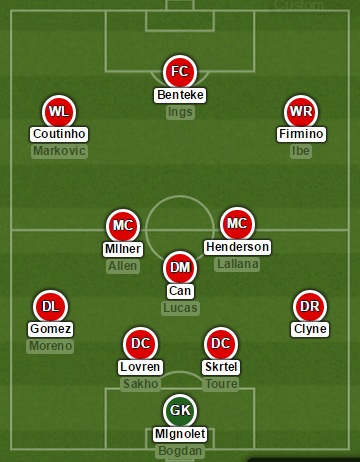 Via – Lineup Builder