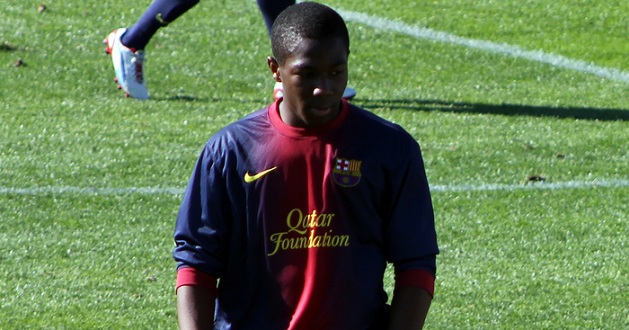 After spending the summer being a top target for a number of Premier League clubs (including Liverpool and Stoke City), Barcelona's Adama Traore is taking his talents to Aston Villa.
Numerous outlets have reported that the 19-year-old was a favorite for Liverpool, but with those talks going nowhere, a reasonable discussion with Villa about Adama's opportunities with the club seems to indicate that that's where he is headed.
The Spanish newspaper AS has reported that the player has signed a three-year deal with an option for a fourth. Although official figures are not yet available, but Adama's buy-out clause is £6 million, and a deal could be struck around £12 million.
Adama would be Villa's fourth signing of the summer, and while Tim Sherwood was initially wary on signing more foreign players, his ongoing interest in Adama (he also tried to sign him while with Tottenham) was too much to pass up.
Adama has played for Barcelona's B-side for the majority of his career, making 63 appearances and scoring eight goals. He has also made three career appearances for Barcelona's senior team, first appearing in a La Liga match during the 2013-2014 season, and then played in two Copa del Ray matches during the 2014-2015 campaign, scoring a goal in one of his appearances.
However, the lack of playing time that Adama would be seeing this season caused him to look to England for an opportunity, and he found one at Villa Park.