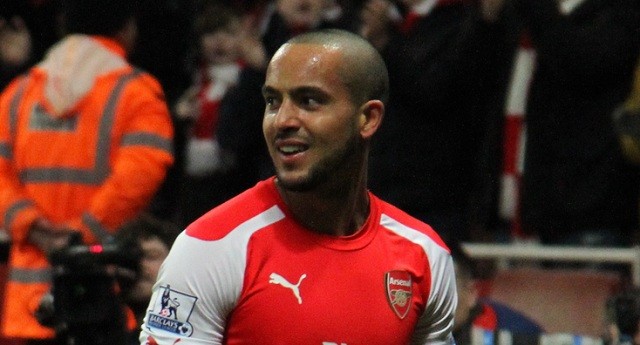 Aaron Ramsey is backing Theo Walcott to score enough goals to take him to the 100-goal mark for Arsenal. Walcott currently sits at 76 goals for the club, meaning that he would need to score 24 goals this season.
Speaking to the Arsenal website, Ramsey expressed confidence that Walcott will reach that milestone because of his natural goal scoring ability.
"He is a goal scorer. He has a load of goals for Arsenal and I think he can carry that on and maybe get into the 100 club this year.
"He's a very strong character. He believes in his abilities and he definitely has a lot of qualities to offer.
"One of the hardest things to do in football is to put the ball in the back of the net and he's done it on numerous occasions for Arsenal. Hopefully he can continue doing that. He looks sharp, he looks strong and he can be dangerous."
Ramsey's comments come after both Arsene Wenger and Real Madrid manager Rafael Benitez, stated the Madrid striker Karim Benzema, will not be joining Arsenal.
"No, nothing is happening," said Wenger in reference to a possible move for Benzema. "Honestly, no. I don't know who brings that up. Is it Spanish media or English media? I don't know."
Benitez followed up on Wenger's comments by confirming that Benzema is to remain at the Bernabeu.
"I think Benzema is going to stay with us. I'm very happy with him."
Striker is perceived by many to be the weakest point in Arsenal's squad in terms of quality. They have plenty of depth though with Olivier Giroud and Walcott both able to knock in 20 goals a season.
Wenger will also be hoping that Danny Welbeck can build on last season. Welbeck started out as Arsenal's first choice striker thanks to an injury to Giroud, but didn't end the season there because of a succession of injuries. The Englishman scored eight goals in total last year and he will certainly be looking to build on that number.
Welbeck has only just returned to training after injuring his knee against Chelsea in April. He will have some catching up to do with both Giroud and Walcott after a strong pre-season by both players, especially Walcott.
The only way that Benzema does make the switch to London is if Arsenal sell one of their strikers and Real Madrid have a ready made replacement on hand. Both scenarios would have to happen simultaneously and neither is likely to happen at all.