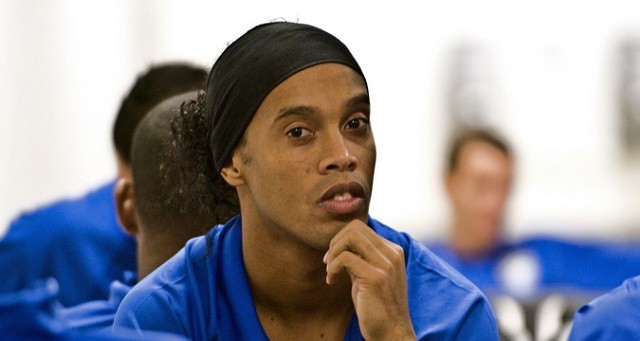 At 34 years old, Ronaldinho Gaúcho, as he's known in his home country, is hardly a world class player these days. It's been 7 years since the Brazilian last played for Barcelona, and 3 years since he played in Europe. Saturday night, Ronaldinho made his return to the Brasileiro after a brief stint in Mexico with Querétaro.
Playing for the first time with his new club Fluminense, he played a crucial role in the game's only goal, leading the tricolor to a 1-0 victory over Grêmio, which moved Fluminense back into the top 4 of the Brasileiro.
Ronaldinho is certainly more than a few years removed from being at the top of the world of football. There's also no doubt that he brings some off the pitch baggage with him. He's not exactly known for having his focus 100% on the pitch, and it won't come as a surprise to many if they find him partying at some of Rio's high end night clubs over the next few months.
He'll miss a few matches because of his age, and he'll probably pick up a few knocks during the course of his stint with Fluminense. Ronaldinho can still place a free kick, such as the one that sent the Grêmio keeper scrambling early in the match Sunday, like the best in the world, asking him to play 90 minutes at a high level might be a little too much these days.
So the question remains, why sign Ronaldinho? For Fluminense, it's about more than football. Ronaldinho will sell shirts, he'll sell tickets, over 30,000 fans attended the match, the second biggest crowd of the season for Fluminense at the historic Maracanã, and he'll entertain the fans with his jogo bonito style of play. While he doesn't bring much on the field these days, he brings so much off of it.
It's the same reason Palmeiras reportedly chased him last season before deciding they needed to focus on football in order to stay up, and why cash strapped Vasco de Gama wanted him so badly. He may be past his prime, but he's still RONALDINHO, one of the greatest footballers in Brazilian history. There's an appeal for clubs to be associated with him.
The truth is, Ronaldinho plays the type of football that it seems the rest of Brazil, other than perhaps Neymar, have forgotten. Ronaldinho still dances around the ball, like the famous Garrincha used to.
While the rest of Brazil is content to sit back and wait for the game to come to them, slogging their way to 0-0 draws, Ronaldinho still plays with the type of flair that once led famous historian Gilberto Freyre to describe Brazilian football as, "a little bit of samba, [and] a pinch of boyish pranksterism" Watching Ronaldino, even at this stage of his career, is like looking into that storied past, and that's why for as long as he plays, he'll always be a draw in his home country, because no matter how much baggage he brings with him, he'll always remain Ronaldinho.