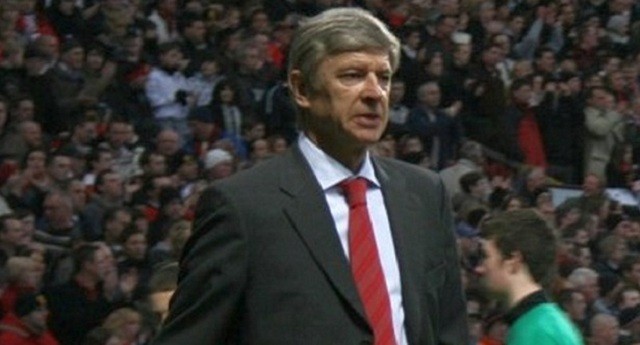 Arsenal square up against Chelsea in the Community Shield on Sunday. Arsenal is the current holder of the shield, having beaten Manchester City 3 – 0 last August.
Although this match is more or less a glorified friendly, a win could do wonders for Arsenal's confidence ahead of a season where they expect to challenge for the title. Club vice-captain, Per Mertesacker acknowledged that a win would provide mental boost to the club.
"The hunger to retain the shield is still there. Winning a trophy would add to the team's confidence, especially a week before the season starts. This match shows how good, how fit the team are and it's also a reflection of how well we've prepared over pre-season."
There is very little teams news ahead of this match. David Ospina and Alexis Sanchez will both be unavailable. Ospina returned to training last weekend and Alexis is due to return this weekend. Both were given a prolonged vacation due to their involvement in the Copa America.
Mathieu Flamini returns to the squad have missed last weekend's Emirates Cup due to an injury. It's more likely that he missed last weekend's events due to a possible transfer to Galatasaray that never materialized.
Tomas Rosicky and Danny Welbeck are both out with injuries still and won't be available until after Arsenal's first game of the season against West Ham on August 8th. We may see the likes of Jeff Reine-Adelaide on the bench, as well as Alex Iwobi and Chuba Akpom.
Here is Arsenal's most likely starting eleven.
Goalkeeper – Cech
Petr Cech will make his first competitive start for Arsenal against his former club. He had a good pre-season and made a number of saves that showed why Arsene Wenger was so keen to bring him to the club.
Right Back – Debuchy
Hector Bellerin ended the season as the starting right back but Mathieu Debuchy may have reclaimed it for now based on the fact that he posses more experience. He looked sharp against Lyon last Saturday, but so did everybody else in the squad on that day.
Center Backs – Mertesacker & Koscielny
Mertesacker and Laurent Koscielny will resume their successful partnership for a third season running. The two have a very good understanding of each other and Arsenal are better when they are playing together.
Left Back – Monreal
Nacho Monreal ended the season as the starting left back and is likely to begin the season as the starter as well. It looked like Wenger was playing his starting back four on Saturday against Lyon, but Monreal was not included in that lineup. It's possible that Kieran Gibbs starts this game based on what we saw last Saturday, but considering Monreal's form last season, it's hard to justify a demotion to the bench for the Spaniard.
Defensive Mid – Coquelin
Francis Coquelin looked very sharp last weekend and looks ready for the start of the season. He will play the integral role of breaking up Chelsea's counter attacks and will need to keep a close eye on Cesc Fabregas.
Center Mid – Ramsey
Aaron Ramsey gets the nod over Santi Cazorla based on his form last weekend and in Singapore. Cazorla looked very sharp this pre-season as well, but based on Wenger's choice of lineups last weekend, it seems that Ramsey is just ahead of Cazorla in the pecking order for now. Both players will play an integral role for Arsenal this season.
Attacking Mid – Özil
Mesut Özil put in a man of the match performance against Lyon on Saturday and you should expect him to carry that form into the new season. He is playing like the world-class number ten that he is and is a pre-season contender for Premier League Player of the Year.
Right Wing – Oxlade-Chamberlain
Alex Oxlade-Chamberlain looks ready to take a huge step forward in his career this season. He was sharp on Saturday against Lyon and Sunday against Wolfsburg. He scored Arsenal's second goal on Saturday with a sublime finish.
Wenger has been talking about how Arsenal needs another 10 or 15 goals from a different player. Oxlade-Chamberlain seems to have taken that message to heart. If he can stay fit, he could be one of Arsenal's best players this year.
Left Wing – Wilshere
With Alexis not available on Sunday, Jack Wilshere will step in on the left. Earlier in the summer Wenger spoke about using Wilshere in a variety of positions, including out wide. Much of that has to do with the depth in central midfield at the club and the fact that Wilshere needs to sustain his fitness this year. He has looked sharp all of pre-season, carrying over the form he showed for Arsenal and England in May and June.
Striker – Giroud
Theo Walcott could get the start here considering that Olivier Giroud looked a bit rusty on Saturday. In the end though, Wenger will go for a more robust center forward to combat John Terry and Gary Cahill. Walcott will be used later in the match to infuse some speed and change the pace of the game.
(4-5-1)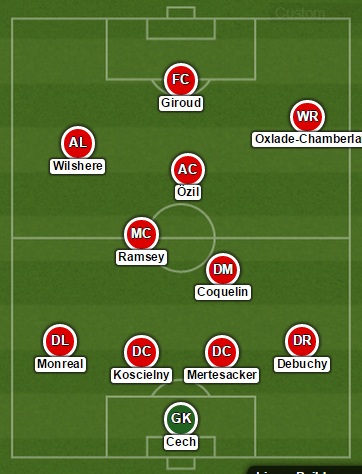 Via – Lineup Builder