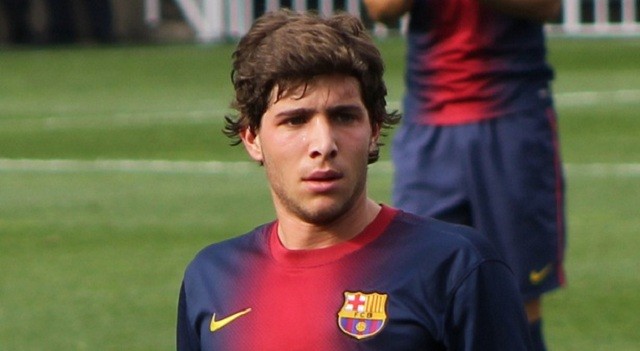 Arsenal is set to trigger Sergi Samper's €12 million release clause according to this mornings El Mundo.
The front page of El Mundo reads, "He [Arsene Wenger] is ready to bring Samper to Arsenal, paying his clause of €12m. It would be his sixth 'plunder' of La Masia [Barcelona's youth academy]."
Samper is a 20-year-old defensive midfielder that came through Barcelona's La Masia along with Arsenal youngsters Jon Toral and Hector Bellerin. Samper has only made four senior appearances for Barcelona, three in the Copa del Rey and one in the Champions League, but is rated highly by the Barcelona coaching staff.
Arsenal are interested in bringing in an additional defensive midfielder to push Francis Coquelin and to provide insurance for an aging Mikel Arteta. Mathieu Flamini has been on the receiving end of intense speculation linking him to a €4 million move to Galatasaray. If Flamini were to leave Arsenal there would be a clear vacancy in the squad that Samper would occupy.
Samper is not the defensive midfielder that many Gooners were calling the club to sign, most Gooners wanted Morgan Schneiderlin, but the Spanish youngster does fit Arsenal's philosophy. He is a young player with lots of potential and has been trained to play in a similar way to Arsenal's style of play.
Wenger likes young players from Barcelona, clearly pointed out by El Mundo, because of the footballing education they receive at La Masia. If given the opportunity, Samper could develop into a player far better than Schneiderlin.
Samper may be interested in joining Arsenal because of the opportunity that he would receive from Wenger and because of the clubs strong contingent of Spanish players, with his good friend Bellerin being one of those players.
His opportunities at Barcelona are limited because he has to compete with Sergio Busquets, Ivan Rakitic, Andres Iniesta, Sergi Roberto, Rafinha, and now Arda Turan, Aleix Vidal, and possibly Dennis Suarez for a place in the team. In fact, Samper is not even listed as a first team player on Barcelona's website.
Samper would be given ample opportunity to prove himself at Arsenal and would be an immediate replacement for Flamini and Arteta, when Arteta decides to leave the club.
Barcelona can do little to stop Samper from joining Arsenal considering his low buyout clause. At the same time, the low buyout clause that Barcelona inserted in his contract could be an indication that they are willing to sell.
Hopefully we will learn more about this possible transfer, and others, from Wenger's press conference later in the week ahead of the annual Emirates Cup taking place this weekend.