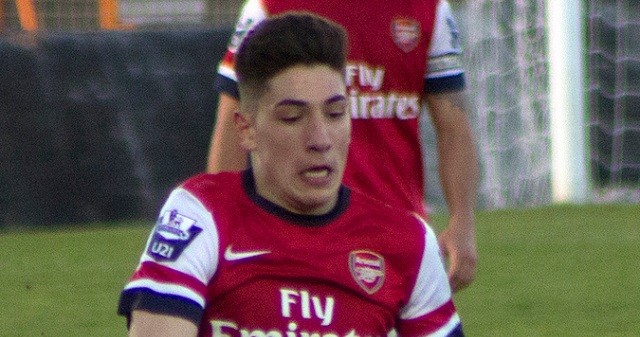 Hector Bellerin has signed a new long-term contract with Arsenal.
Bellerin broke into the first team after injuries to Mathieu Debuchy and other defenders forced Wenger to play the young Spaniard. Bellerin suffered a rocky start, especially against Dortmund in the Champions League, but bounced back well in January to held down a regular place in the squad.
Wenger spoke about Bellerin ahead of the Arsenals pre-season friendly match against Everton in the finals of the Barclays Asia Trophy Singapore.
"He is one of the players who has emerged last year and has had a very good season. Bellerin and [Francis] Coquelin are the two players who were not necessarily planned last season to come out [and be involved in the team], but they now have to confirm their ability this season, and that is always very difficult to produce the same performance in the second season. That is their challenge. But Hector is a very mature, very focused player, and I am confident he will have a good season again."
Congratulations to @HectorBellerin, who has signed a new long-term contract with the club: http://t.co/YD7CH6HS2f pic.twitter.com/nJjPnY2r7F

— Arsenal FC (@Arsenal) July 17, 2015
Bellerin joined Arsenal in 2011 from Barcelona as part of the Cesc Fabregas deal. During his youth years at Barcelona he had played as a right-winger. Once at Arsenal, the youth coaches moved him to right back, where he flourished as an attacking fullback.
In 2013 he signed a professional contract with Arsenal and was subsequently sent on loan to Watford. Many will not remember his time at Watford fondly. He only managed eight first team appearances during his time there, none of which stood out.
This past season he made 28 first team appearances, including the FA Cup Final win against Aston Villa. He scored two goals, the first with a sublime finish against Aston Villa in a 5-0 win, and the second against Liverpool in a 4-1 win with a fantastic solo effort.
Bellerin putting pen to paper will make Gooners happy. Bellerin has exhibited exceptional potential as well as maturity for a player of his age. It looks like Bellerin is Arsenal's right back of the present and future.