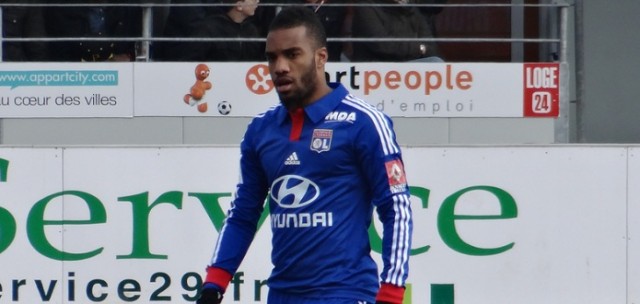 With the recent signing and arrival of Petr Cech, Arsenal are just one or two signings away from contending for titles next season. The former Chelsea legend was a huge nab for Arsene Wenger, who has had keeper inconsistencies for multiple seasons. A dynamic forward or winger who could add a different dimension of creativity and danger would round off a very strong transfer window for the Gunners.
Daily Mail is reporting that there is mutual interest between Arsene Wenger and Lyon star Alexandre Lacazette. After favoriting a tweet that linked the striker to an Arsenal move this summer, Lacazette shows that he would favor that move. He has since gone back and deleted the favorite after the publicity, but the initial intent has to be noted.
Lacazette is a player who can flourish on the wing or in the forward role, something that Arsenal would greatly benefit from. The Frenchman netted 27 times last season in Ligue 1, third to only Messi and Ronaldo in Europe's top leagues. He has a great ability to finish in the box and also from distance, which allows him to be versatile and efficient in Arsene Wenger's system.
After making the transfer for Oliver Giroud after he earned the title of top-scorer in Ligue 1 as certainly paid off, Wenger may be keen to do the same with compatriot Lacazette. Besides his ability to finish, the 24 year old is very good holding up play, dribbling, and passing, which would see him fit in well in Wenger's for mentioned intricate and technical system.
Lacazette can find success on the wing with a quality striker ahead of him like he had at Lyon with Bafetimbi Gomis. He also has shown he can live up top like he did when Gomis left in the 2014/2015 season. Giroud could have had a stellar season last year if he hadn't missed a lot of games due to a broken leg, but Theo Walcott and Danny Welbeck are still somewhat of a question mark. Lacazette could add the extra goal scoring firepower Arsenal lacked in some stretches last season.
Lyon President Jean-Michel Aulas has expressed his hope for Lacazette to stay, but admitted that if they were offered the right price they would sell. Although Aulas says he is 'not worried' and that he thinks Lacazette wants to stay at Lyon, it is rumored that 35 million pounds would buy the Frenchman's services. Arsene Wenger has been reluctant to spend in the past, but Lacazette could help Arsenal to their first major title since 2004, which would be worth every penny.