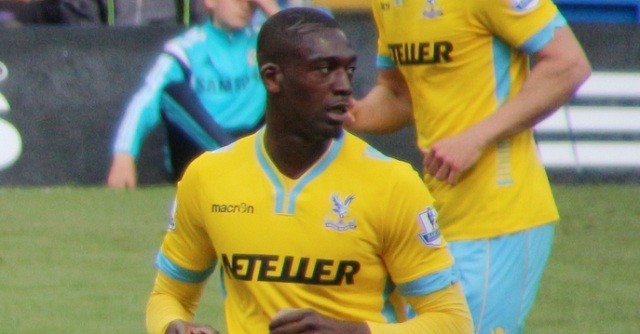 Ajax has confirmed that young Arsenal striker, Yaya Sanogo, has joined the Amsterdam outfit on loan for the upcoming season.
Although Sanogo has yet to fulfill the potential that Arsene Wenger believes is there, Ajax manager Frank de Boer says he is ready to coax it out of Sanogo and spoke of him in gushing terms.
"He's obviously had a lot of competition at Arsenal and was very young when he arrived there. He showed a lot when he was 17 at Auxerre, albeit in the second tier, but he's also come to the fore with Arsene Wenger. He stands to be a great talent; it's just difficult to get there at Arsenal.
"I think we can give him the opportunity to once again show that he has talent. Wenger is also still fully behind the idea that he is a top class player. He just needs to make the next step now."
From Singapore, Wenger spoke to the press and confirmed Sanogo's loan. The manager outlined how Ajax can make Sanogo a better player.
"He will go on loan, I believe he needs to play. He's ready and he'll get an opportunity to play in the Champions League.
Former Arsenal striker Dennis Bergkamp and former Arsenal winger Marc Overmars currently have prominent roles with Ajax. Bergkamp is de Boer's assistant manager and Overmars is the club's technical director. Many Arsenal fans, including Wenger, will hope that Bergkamp and Overmars will have an affect on Sanogo.
"Dennis Bergkamp and Marc Overmars work there and we have a good relationship with them," said Wenger.
For his part, Sanogo seems very excited about a move to Ajax. Sanogo hopes to emulate former Ajax striker and Arsenal legend Nwankwo Kanu.
"The manager of Ajax called me last week and said 'I want you to play for Ajax'. I'm very happy, I didn't think a big club like Ajax wanted me. Now I want to work hard to play. I hope to score a lot of goals. I know of Zlatan Ibrahimovic and Nwankwo Kanu, legends who played for Ajax. Kanu was a special player, a top player, very technical…and a good finisher."
Yaya Sanogo joins #Ajax on loan from @Arsenal. Welcome to the club! #welkomyaya pic.twitter.com/fVlyaRql32

— AFC Ajax (English) (@AFCAjax_EN) July 17, 2015
Wenger is a big fan of Sanogo and holds him in high regard. Sanogo certainly has all the physical attributes to be a good striker in the future. He will need to improve on his finishing, but, to be fair to Sanogo, he is a young player and often finishing skills improves with experience.
Sango also needs to improve on his health. Sanogo has been held back by injuries for much of his career. During his first season with Arsenal in 2013, he was injured for almost half the year. When he was healthy, Wenger trusted him in some important games down the stretch.
Sanogo started against Liverpool in the FA Cup, Bayern Munich in the Champions League, and against Wigan in the FA Cup semi final that season. He came on against Hull City in the FA Cup Final that season as well and was a large reason for Arsenal's second half improvement in that game.
Last season, Sanogo spent half the year on loan with Premier League outfit, Crystal Palace. He made 11 appearances for Palace and scored one goal. Injuries hampered Sanogo at Crystal Palace, which prevented him from making more appearances.
Sanogo has only scored one goal for Arsenal in 19 first team appearances. That goal came against Dortmund at home in an important Champions League match last season.
He moved to Arsenal on a free transfer from Auxerre in 2013. Sanogo made 21 appearances and scored ten goals for the Ligue 2 side.