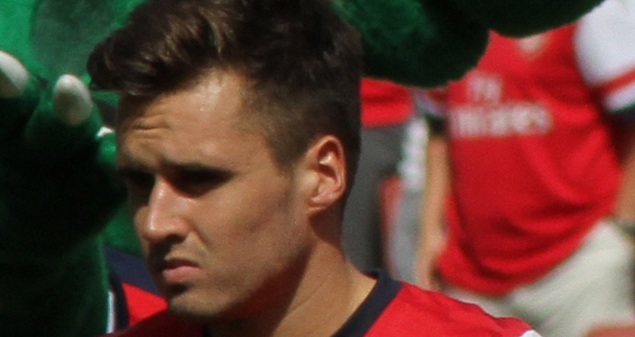 According to the Mirror, Carl Jenkinson has signed a five year deal with Arsenal ahead of a season long loan move to West Ham. Jenkinson was at Upton Park last season as well, and thoroughly impressed with them last campaign.
West Ham was keen to bring Jenkinson back for the upcoming season and fended off interest from both Southampton and Sunderland. The Hammers will pay Arsenal a loan fee of about £2 million.
If Jenkinson had decided to stay with Arsenal for the upcoming season, he would have likely found his playing chances slim. He would have had to compete for minutes with Hector Bellerin and Mathieu Debuchy.
The right back battle at Arsenal this season will already be interesting as it is. Bellerin took over from Debuchy after the French international suffered a series of unfortunate injuries that sat him out for consecutive months at a time.
Jenkinson is a lifelong Gooner that signed with Arsenal from Charlton in 2011. He has made 57 senior appearances for Arsenal and made 29-league appearance for West Ham last season.
The new deal provides security for both Jenkinson and Arsenal. If Jenkinson performs well he could put himself in a position to fight for a place at Arsenal, especially considering that Debuchy was signed as a short-term option at right back.
For Arsenal, this deal provides them the opportunity to lock up a homegrown prospect and increase any transfer fee they would receive if they choose to sell Jenkinson in the next couple seasons.
All in all, this is a beneficial move for both player and club.