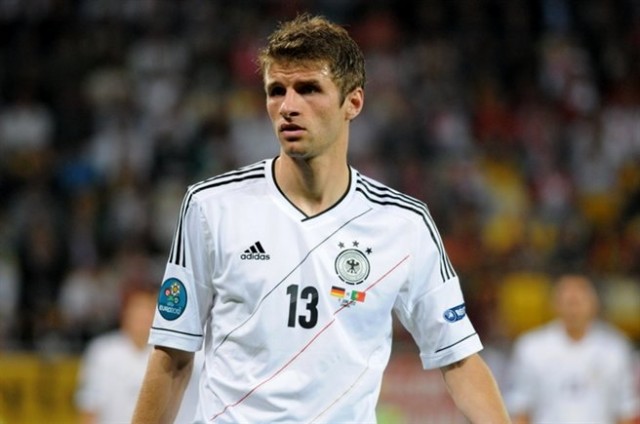 With the eminent departure of Robin van Persie in the coming weeks and Radamel Falcao on his way to London, Manchester United are rumored to have upped their bid for Bayern Munich and German international star Thomas Muller.
The Metro is reporting that Manchester United has made a bid near 60 million for Muller. While apparently Bayern has rejected the bid, talks over the transfer are still ongoing.
The 25 year old Muller would be a warm welcome to a united team needing offensive firepower after floundering campaign with Falcao, van Persie, and Di Maria. With Memphis Delay already signed and Bastian Schweinstieger packing his bags, a Thomas Muller would certainly round off a very formidable new attack.
Muller is certainly an interesting player, as he is good at nearly every aspect of the game and could line up in multiple places, similar to the versatility of Wayne Rooney. He produces goals from the midfield, the wings, and the final third, earning two golden boots in the process. Muller always finds himself in the right place, and makes little mistakes with his quality finishing.
Muller also has ties with current United manager Louis van Gaal, as he was the Bayern manager that allowed Muller to break into the first team, and ultimate stardom, in the 2010 campaign. Van Gaal knows the type of player Muller is, and how to appropriately deploy him.
About halfway through the Summer transfer window, attacking options for the Red Devils are becoming thin. To be able to snatch up a great young talent in Muller would be a huge score for van Gaal and Manchester success alike.