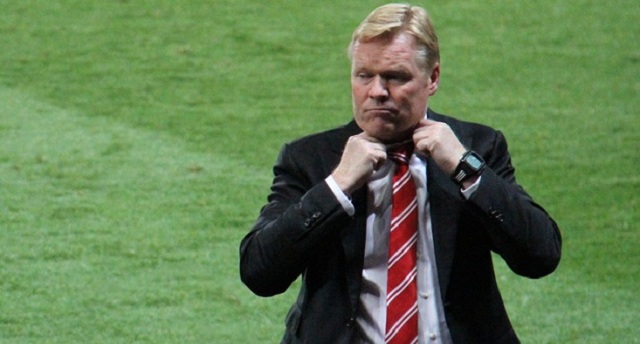 Last summer was a tough one for fans of Southampton FC. A mass exodus of several top players left many on the south coast in fear of relegation. A few key signings, as well as impressive play by those who returned, gave the Saints the best season they've ever had in the Premier League, with a berth in the Europa League the icing on the cake.
Sadly, Saints fans knew that this historic season would once again mean that there would be an exodus of players. Midfielder Morgan Schneiderlin and right back Nathaniel Clyne have both already made their way to other clubs (Manchester United and Liverpool, respectively), with rumors surrounding Toby Alderweireld and other top Saints.
Since the 2014/2015 campaign ended, the Saints have picked up two new players, as well as nabbing Maarten Stekelenburg from Fulham on a season-long loan until Fraser Forster's return from a knee injury. These new players are a mystery to most of the EPL, but to those familiar with Saints' football and the type of players they go after, they aim to be replacements for both Schneiderlin and Clyne this season.
Juanmi
The addition of Juanmi, a playmaking midfielder from La Liga's Malaga, seemed to be a definite replacement for the loss of Schneiderlin this summer (while not yet a done deal, it appears to be imminent). Regardless, the Spaniard will certainly be able to add depth to the midfield, especially with Europa League on the horizon.
Having made 85 caps for Malaga by the age of 22, as well having experience with the Spanish national team in their youth system (two-time UEFA European U-19 Champion, 2011 and 2012) and their senior team as well (his first senior cap came March 31st in a friendly against the Netherlands), Juanmi has clearly both competed and succeeded at some of the highest levels of football.
His eight goals in 34 La Liga matches last season also show that he is offensively capable as well, and by signing a four-year contract with the Saints he figures to be a name that the south coast should be familiar with for some time.
Cuco Martina 
The Saints' other significant, and most recent, signing was Martina, a 25-year-old Curaco international who had been playing in the Netherlands with FC Twente since 2013. It is obvious that Koeman loves to mine Eredivisie for quality talent (Graziano Pelle and Dusan Tadic made their cases last season), and the connection goes even further.
Martina played under Koeman's brother, Edwin, for two years at RKC Waalwijk, a second-division club in the Netherlands. Martina is a definite help with the departure of Clyne, as well as Alderweireld's status still being up in the air.
Koeman also told BBC Sport that Martina will help given the recent injuries to Ryan Bertand and Bevis Mugabi a young defender who had also looked to get more time with Clyne's departure. Martina has made nearly 20 appearances with Curacao's national team, and becomes the first-ever Curacao international to play for Southampton, and the second in Premier League history.
The additions of these two players, as well as the growth of the Saints' academy players, should mean that the ticket to the Europa League won't spell a death sentence to the Saints' EPL hopes as far as depth goes. Their preseason training, which began last week and will continue in Austria this week as they prepare for preseason friendlies, has looked good so far, as the new players mesh with the old, highlighted with the return of fan favorite Jay Rodriguez, who missed all of last season due to a torn ACL.
There will be plenty of talent to go around in the south coast, and while all the moves may not be done for the 2015/2016 campaign, Southampton seems to be headed in the right direction as they continue to make a name for themselves in English football.