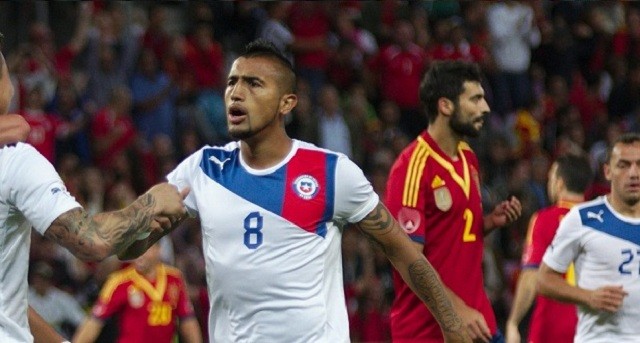 Arsenal has now been given approval to go ahead with the signing of Juventus midfielder Arturo Vidal.
Arsene Wenger and the Gunners have been in talks with Juventus recently about bringing Vidal to the Emirates, and now the Italian side seems happy to oblige as they have their own eyes set on signing Chelsea phenom and Brazilian international, Oscar.
Wenger may have to shell out more money than he would like, with Spanish giants Real Madrid also having been in talks with Vidal and Juventus recently. The Gunners will likely not shy away from seeking to sweep up the Chilean international tough, as signing a premier-level midfielder has been on top of Arsenal's transfer window wishlist after their recent success in signing goalkeeper Petr Cech.
After spending four years at German club Bayer Leverkusen, Vidal became linked with multiple big name clubs, eventually deciding on a move to Juventus on a five-year €10.5 million deal. Success quickly came after Vidal's arrival, where he has helped Juventus to four straight Serie A titles, a Coppa Italia crown, and a runner-up finish to Spanish powerhouse FC Barcelona in last year's UEFA Champions league final.
Vidal's sound defensive skill set and box-to-box style of play in the midfield is something Wenger has been keen on, and is hoping would become a cohesive match with Jack Wilshire's similar style of play.
If Wenger can close the deal with Juve and Vidal, fans may see more than a glimmer of a hope for the fast-approaching Premier League season with many high-powered players heading to the Emirates.