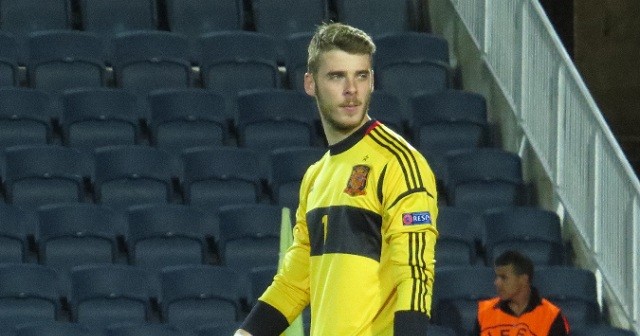 In an effort to further strengthen their squad, Real Madrid are seeking the services of Spanish goal-keeper David De Gea from Manchester United but it may prove a tad expensive at £30million. The former Atletico Madrid goal keeper has been rumored to make a return to the Madrid capital amid unhappiness at Old Trafford.
Louis Van Gaal has been open about the potential transfer saga during the post-game interviews. He has stated that  the reason behind him not signing a 'very lucrative deal' is due to his unhappiness and also the distance between his family and more specifically his girlfriend. At around 3:14 they ask about about De Gea's future
According to The Guardian, Manchester United are hesitant to sell their star goal-keeper; who only has a year left in his contract, for a reported transfer fee of €18m to Los Merengues. They are however interested in  Real Madrid's center back and vice captain Sergio Ramos. With two years left in his contract Ramos has yet to extend his contract and negotiations are said not to have been taken place yet.
Ramos set for Real Madrid exit
According to the source, Ramos is looking for a " €10m-a-year contract renewal he feels he deserves." Other notable defenders such as Thiago Silva, (€12m) and  David Luiz (€11m) earn more while he feels his worth his not properly adjusted.
Many Madridistas reject the credibility of this transfer reporting that Rene Ramos, both his brother and his agent, is riling up the media to negotiate a better contract offer with Real. Also the according to The Daily Mail, "Barcelona presidential candidate Jordi Majo claimed on to have been offered the chance to sign Ramos" Los Blancos have yet to comment on the authenticity of the story.
Would real Madrid be foolish to let one of their star center-backs go?
I for one don't think so, with Pepe only getting older and Raphael Varane amidst becoming a definite starter, it doesn't seem logical unless they are able to attract a new young or experienced talent. What are your thoughts and opinions on this rumor? Let us know in the comment box below.