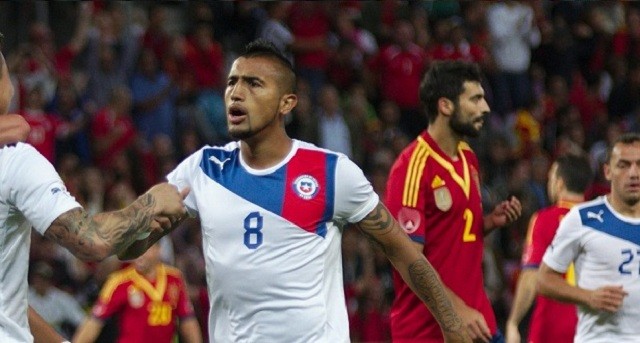 Reports emerging out of Spain have claimed that Juventus have already agreed to sell Arsenal target Arturo Vidal
In a bid to overhaul champions Chelsea in the title race during the upcoming Premier League season, Arsenal are widely expected to strengthen their squad this summer and the Gunners are set to make a huge capture by securing the services of Petr Cech within the coming few days.
Arsenal manager Arsene Wenger is said to be looking to add another marquee name at the Emirates Stadium in addition to Cech and as a result, Chilean superstar Arturo Vidal has been consistently linked with a move to North London.
Vidal is widely expected to depart Italian side Juventus this summer and the midfielder is said to be eyeing a switch to the Premier League.
Vidal could be set for Arsenal move
Manchester United have often been named as the likely destination for Vidal over the past few seasons but with the Red Devils set to sign Morgan Schneiderlin, Arsenal have now emerged as the favourites to land the signature of the 28-year old.
Now to fuel speculation regarding Vidal's transfer to Arsenal, Spanish publication Marca have claimed that Juventus have already agreed upon the sale of the midfielder.
While the reports have not revealed the identity of Vidal's new club, it has moved on to state that the Chilean international is being sold to a 'top European club' by Juventus this summer.
It remains to be seen whether Arsenal are the club that have been able to land the services of Vidal but if indeed the midfielder does make a move to the Emirates Stadium, he will surely be a huge signing for the Gunners.
https://www.youtube.com/watch?v=r8iKLIacxxw