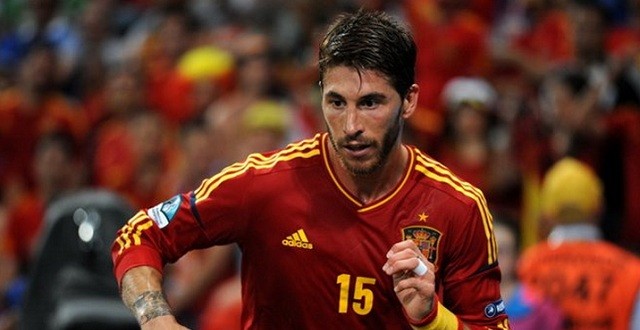 Nothing is permanent in football and this will probably apply to Real Madrid very soon. Sergio Ramos is the man of the hour right now, and not for good reasons. The central defender has been looking for a raise since La Décima and has gotten nowhere with the club. Because of this, rumors have been spreading like wildfire. The main one involves Madrid getting 30 million euros and De Gea for Sergio. Here are some reasons why it's time to sell him.
He's angry
Look at the history of modern football and you'll see that an angry player is pretty much worthless, especially if we're talking about one of the best in his position. If the club decides not to renew him, give him a raise and still keep him in the squad, his mood will most likely affect his performances. If he's not getting what he wants, there's no reason to give anything in return.
Sergio Ramos has a lot of personality and while the above situation might not be as intense with other players, it seems that the #4 wouldn't make it pleasant. While he has professed his love for Madrid countless times, we're seeing a situation very similar to Özil, Higuaín and Di María's. They didn't get their way and it wasn't long until Real noticed nothing good would come from keeping a bitter man.
This might be the last chance to make a big sale
He's 29 years old, and he's bound to start declining in performances soon. Believe it or not, he's been at the club for a decade and he has won all possible titles at least once. Varane has been proving to Los Blancos that he must become a starter right away. This forces either Ramos or Pepe to be benched. It's very unlikely that the former would gladly take a substitute role and stay happy.
If the club accepts this supposed offer, they would get what they want and open up possibilities. For starters, they cash in 30 million, they get the desired David De Gea and can now spend money on a new central defender. Nicolás Otamendi from Valencia has been on the rumor mill lately and he would be both on that price range and a good replacement. When Sergio hits 30 and next summer comes around, the chances of getting this good of an offer are low.
He only delivers one or two months a year
In 10 years with the team, there hasn't been a single season when he was a constant top performer. Although all players go through highs and lows throughout the year, Sergio goes to the extremes, either performing terribly or performing greatly. Since there's no gray with Ramos, the results start getting negative and the chances for titles start to steadily decline.
Taking the last two years as an example, most of his 2013-14 season was average. It wasn't until March or April that he started shining, saving goals and scoring goals like the one at Lisbon. This year, he did great during the pursuit of the Guinness World Record, then he was awful, almost directly causing the Copa del Rey elimination, losing the lead in La Liga and giving Juventus the Champions League final.
Overall, we see that the cons are very significant and should be considered when making the final decision. There definitely are pros to keeping Ramos on the team, but Real Madrid under Florentino Pérez works like a business and an angry and possibly burnt out employee isn't a good thing. The summer is still young and a lot can happen, but this will be the drama to follow until August.
https://www.youtube.com/watch?v=RASlGOHdAlM