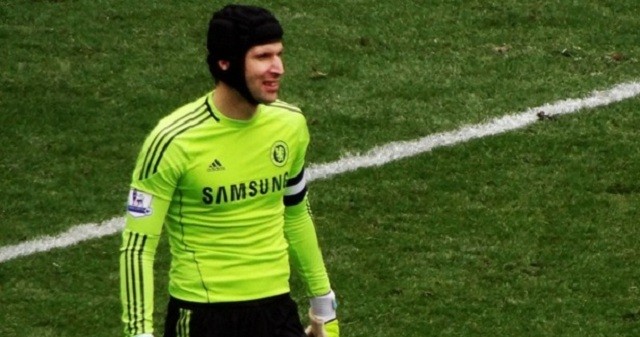 Petr Cech's transfer from Chelsea to Arsenal will be completed imminently. Earlier Monday, reports circulated that a deal had been completed. Those reports have proved to be inaccurate, but the two clubs are close to an agreement.
David Ornstein of the BBC reported that although no deal has been completed, negotiations between the two clubs are still ongoing. About an hour later, Ornstein tweeted this.
Cech spokesman Viktor Kolar tells @SajChowdhury: "Transfer of Petr Cech is not closed yet. We will inform the public as soon as it happens."

— David Ornstein (@bbcsport_david) June 22, 2015
Another hour later, Ornstein tweeted this.
Arsenal now close to agreement with Chelsea for Cech. Nothing finalised/signed but talks progressing towards deal being completed #AFC #CFC — David Ornstein (@bbcsport_david) June 22, 2015
The Guardian is now reporting that Arsenal and Cech have come to an agreement over personal terms that will see the Czech international earn £100,000 a week. The deal could also see Chelsea goalkeeping coach Christophe Lollichon, make the move to North London to replace outgoing Arsenal goalkeeping coach, Tony Roberts.
No timetable of when a deal should be completed has been given. However, considering the increased pace of negotiations and updates throughout the day, we can expect a deal to be completed by the end of the week.
Arsenal will now have to decide what to do with Wojciech Szczesny and David Ospina. Szczesny has made it clear he wants to stay with Arsenal while reports have surfaced claiming that Ospina could make a €5.5 million to Turkish club, Fenerbahce.
Cech's decision to move to Arsenal will come as a blow to Chelsea. Jose Mourinho has been making it clear for months now that he would rather see Cech transfer to a club abroad. Mourinho tried to complicate any deal with Arsenal by insisting that Chelsea receive a homegrown player, Alex Oxlade-Chamberlain it was reported, in return plus a fee for Cech.
It seems that Roman Abramovich has overruled Mourinho and has granted Cech a move to Arsenal as gratitude for and in acknowledgement of all that he has achieved with Chelsea. A fee has yet to be agreed, but it is believed that the clubs will agree to a payment between £10 million and £15 million.
Chelsea captain John Terry, believes that Cech will win Arsenal 12 to 15 points by himself next season. Arsenal finished the Premier League in third place, 12 points behind champions Chelsea.
It's difficult to say if Terry's assessment will be accurate. One thing is clear though, the addition of Cech makes Arsenal Chelsea's primary rival for the title next season.