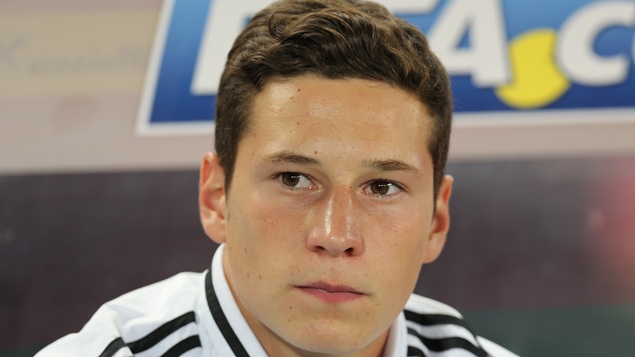 According to Metro, Schalke star and German International Julian Draxler is eying an Arsenal move this summer. The Gunners are in need of a direct attacking threat on the wings, something they don't have in abundance. With the emergence of Walcott as a central striker at the end of the season, there is even more reason in Arsene Wenger to invest in a quality winger like Draxler.
Arsene Wenger has always been high on Draxler, even trying to make this move nearly two years ago before failing. Now, Schalke have placed a 28.7 million tag on the 21 year old, which is less than his buyout clause was January of last year. Wenger has been known to be shy to spend over his career, but with the recent splurges on Mesut Oezil and Alexis Sanchez, Draxler doesn't seem out of the question.
Draxler possess a certain skill set that Arsenal would love to have. He is fast, has a lethal strike, and most importantly excels in one-on-one situations.
When deployed on the left flank like he is used to, Draxler has great footwork and speed to be able to take on and beat defenders, something that only Alexis has done recently for Arsenal.
Although Draxler is very young in age, he will come with a plethora of experience. He has made 23 Champions League appearances and 15 International appearances for the German senior team. He is the youngest player to score and in Bundesliga history while also being the youngest to play 50 Bundesliga games.
The German youngster is apparently very keen on a move out of the Bundesliga, Arsenal looking a very welcoming landing spot. He would join the contingency of German Internationals already on the team, making for a smooth transition to life in England. With the player himself showing interest and being an imminent fit into the squad, Arsene Wenger would be foolish not to give this transfer some thought.
https://www.youtube.com/watch?v=pj_ERKpktKI