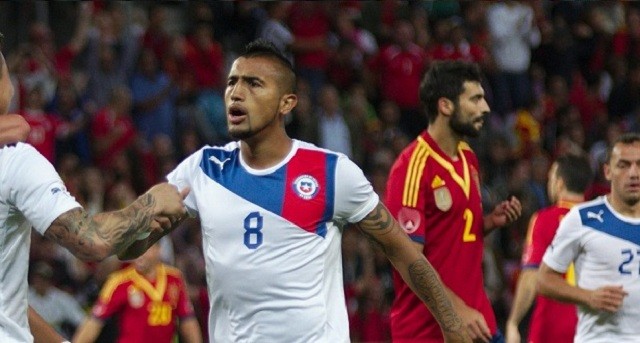 According to Spanish newspaper Marca, Real Madrid would've given up on signing Arturo Vidal because of his conduct. Although Rafa Benítez wants to have a player of his caliber and playing style, the club sees a big risk in making a substantial investment for a troublemaker, despite his talent as a footballer.
There's no doubt that if every big club in Europe had the chance to sign Arturo, they would in a heartbeat. In four years with Juventus, he has won the league every season and even reached the Champions League final this year. He has become essential in the Vecchia Signora's system, acting as a box-to-box midfielder.
Vidal suffered an incident this week while playing the Copa América in his homeland. The player crashed his Ferrari while driving drunk. The most alarming part is that this didn't occur during a vacation, but in the midst of an important tournament for his national team. This is just one of several incidents throughout the years that put him in the "bad boy" category.
Real Madrid are known for being exigent and at times, careful with the decisions they make. However, this report from Marca may be hypocritical if we look back at past decisions. We have Royston Drenthe, a former potential star that wasn't that different from Vidal, as he crashed cars and liked to party.
We didn't see Real saying no to Antonio Cassano or Julien Faubert back in the day, even though the former had terrible eating habits and the latter fell asleep during matches. If we stay in the present, Fábio Coentrão makes the club look foolish since he smokes and spends 50% of a season injured, at times even without any explanation.
The worst part is if you consider that Karim Benzema has been detained for speeding and has crashed his car several times. However, we don't see attacks from the press towards him. Cristiano Ronaldo didn't have any problems with getting drunk and dancing despite having lost 4-0 to Atlético Madrid that same night.
What we see from Marca is an obsession for criticizing those who don't play for Los Blancos and protecting those who do. While protecting isn't wrong at all, they should cease to attack others. What truly matters is a player's talent, nothing more, nothing less. Luis Suárez just won a treble with FC Barcelona, does anybody even use or care about the biting incident anymore?
https://www.youtube.com/watch?v=r8iKLIacxxw